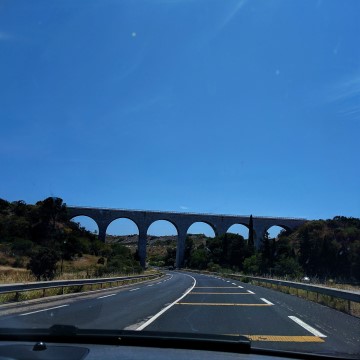 We recently decided to drive through Southern France. After landing in Bordeaux via train, we rented a car in anticipation of a fun adventure through wine country, followed by scenic drives to Toulouse, Montpelier, Marseille, and then Cannes.  Having driven across Canada, I am familiar with the joys and wondrous sights that a road trip can bring. My hope was that driving in France would present fantastic scenery, great pit stops, and the chance to drive down coastal highways.
Since this was my first time driving in France, I knew that I would learn a lot of lessons. Drivers have different habits in every country, nay, in every city. I was both excited and weary at the prospect of driving in a new place. I have fond memories from previous roads trips through Portugal and Ireland, and hoped that a drive through Southern France would present the same sort of adventure.
Over nine days, we experienced a number of highs and lows. The trip was hard on our wallet, but we discovered several charming French cities that were perfect for our family. The beaches of the French Riviera lived up to our expectations, even if the water was a little colder than we expected. We also found some great discoveries along the way. Given the chance to do it again, however, we might consider ditching the car. We often found driving to be a burden. While it's not a bad option, here are some things you should know about driving in France.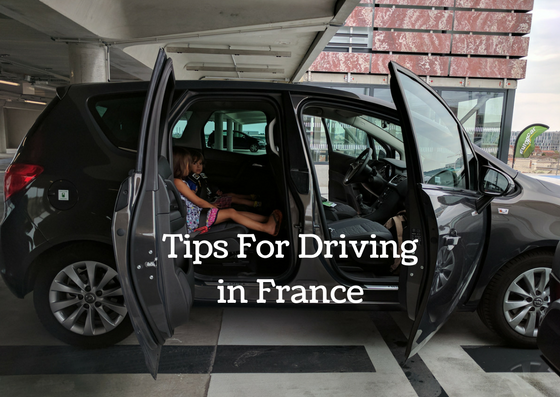 Gas is Extremely Expensive
Many Canadians are well aware that, because of lower taxes, gas is cheaper in the United States than it is to Canada. However, a Canadian driver in France is in for a shock. During the two weeks we spent driving in France, we paid and average of 1.35 € / litre for gas. That's about $2.00 Canadian. As I write this, gas in Toronto is $0.99 / litre, which is literally half the cost of gas in Southern France. The price of goods and services will always vary from country to country, but for a product as universally used as gasoline to be twice the price is painful. With fuel taxed at such a high rate, one should think twice about relying on a car to travel around France.
Highway Tolls are Prevalent and Hard to Avoid
On top of the high fuel prices, most highways in France have hefty tolls. We had arrived in France from Spain, where we found a few toll highways but discovered that the alternate routes are just as nice and take the same amount of time. In France, the toll routes are significantly quicker. From Marseille to Nice, for example, the tolled highway takes two hours while the non-tolled route takes four. Factoring in the extra two hours of gas use, it's actually cheaper to take the toll route, even though it costs 17.50 €.
Rental Cars are Relatively Inexpensive
The cost of our rental call provided some welcome respite from the gas and toll prices we encountered. We rented a compact car for 9 days, picking it up in Bordeaux and dropping it off in Lyon. The total cost was 234 €, including the drop off fee. We paid much more for a car we rented in Spain the previous month, and this vehicle was large enough to hold our two large suitcases, compact double stroller, four backpacks and four grocery bags. One caveat is that most of the rental cars available are standards. If you need a car with an automatic transmission, it will probably cost you double the price.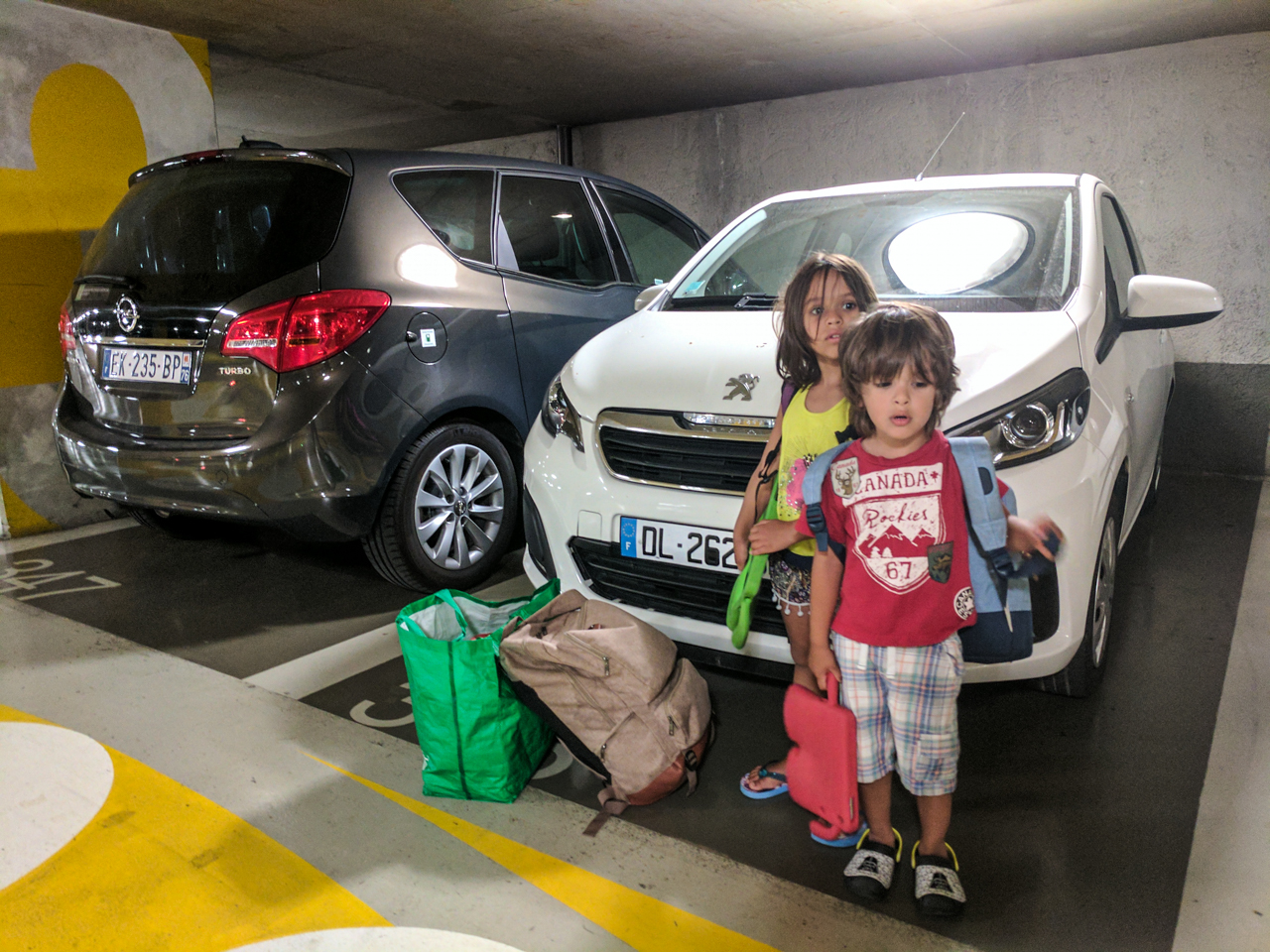 Parking in the Cities is Hard to Find and/or Costly
As we made our way into Marseille, a large metropolitan area greeted us, in which the roads grew narrower and narrower as we approached the city centre. When we reached our destination, the streets were so congested that we struggled to even find a place where we could pull over to unload our bags. After our accommodations in the city fell through, we made our way towards the harbour front, where we ended up paying 18 € for overnight parking outside of our hotel, and that was a special rate for hotel guests. The regular rate was 35 € per night, more than what we paid at the hotel in Chicago two years ago.
In Montpelier, we encountered large swathes of the city that were pedestrian only, which I usually love, but not when I am driving of course. To get to a grocery store 1.8 km from our home, we had to drive a 4.5 km circular route along the exterior of the downtown area. When we pulled up in front of the grocery store, Yashy had to hop out and grab some items on her own while I sat blocked in between two cars, since the car blocking the entire lane in front of me was missing its driver. When we finally escaped, I kept hitting dead ends trying to leave the area and ended up driving down the streetcar lane. I still don't know if that was legal or not.
Parking in Bordeaux was difficult but not impossible. Driving through the city is especially slow since there are lights every 50 to 100 meters and most of the downtown streets are pedestrian only. Those that aren't just for pedestrians tend to be filled with double parked cars. Lyon is the only city where driving isn't an unwelcome task. We easily found parking outside our GuesttoGuest apartment and even downtown driving is relatively easy.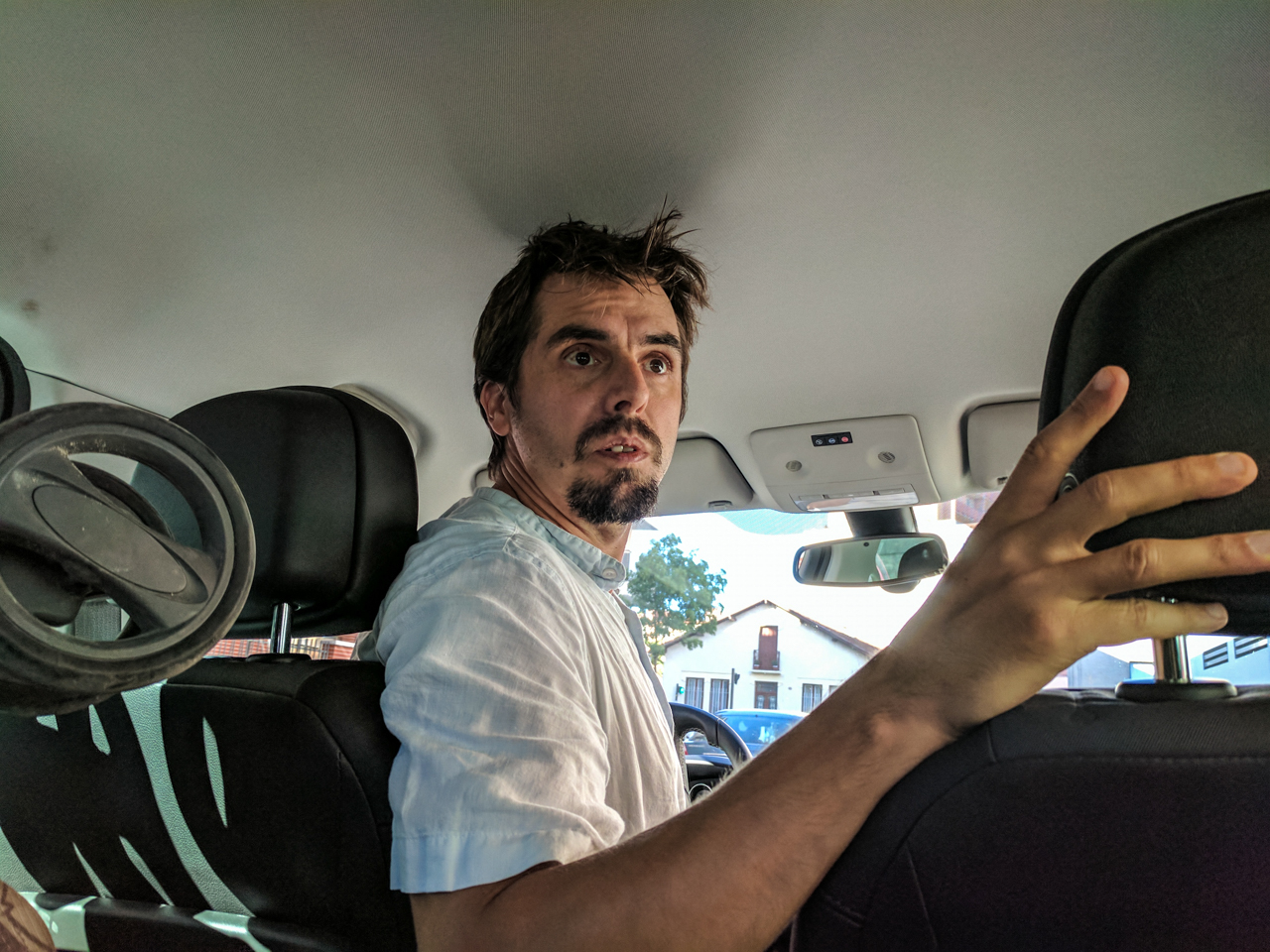 When Driving in France, the Scenic Routes take MUCH Longer
The toll highways have no scenery. In Canada, I love that I can take a double lane highway through parts of the Rocky Mountains or speed across vast open roads of the Prairies. Choosing to take the scenic route in France can add hours to a trip, even during shorter distances. With two small kids, we decided to stick to the highways and keep our driving time to a minimum but we did take a drive through wine country in and around Bordeaux. One place we stopped was in Saint-Emilion, where some select wines cost more than our monthly mortgage payments and the average lunch is about 40 € per person.
We expected to find bustling wineries, similar to those in Niagara-on-the-lake, which are filled with locals and tourists throughout the Spring, Summer, and Fall. In Bordeaux, we encountered nothing of the sort. Many of the wineries didn't seem to want visitors and those that did were empty. Perhaps we visited during the wrong time of year, but we did not find the wine tasting adventure we hoped for.
Drivers have Different Habits – Some Good, Some Bad
I am tempted to call the French poor drivers, but that is a simplistic view. Driving in a new country is always challenging. Locals develop habits that often seem dangerous to foreign interlopers. I've talked about the panic I experienced on Moroccan roads. In France, a lot of drivers tailgate, which is a habit that I abhor. However, I also found French drivers to be more respectful of the passing lanes. In 9 days, I only saw one car that pass another using the right lane, a dangerous move that is prevalent on the highways in Toronto.
The reason is that French drivers rarely stay in the left lane. If they want to pass the car ahead of them, they will pull out, pass and ease back into their previous lane. Along with this behaviour is an unusual habit; many drivers keep their left signal light on when passing, apparently as an indicator that they are only there temporarily. This habit initially annoyed me, but I got used to it. Since French Highways are nowhere near as congested as those in big North American cities, those driving in France have the luxury of being able to pass and then have enough room to get back in their lane. Since speed limits on the toll roads are 130 km/hour, I spend a lot of time in the 130 to 145 range, and I was still getting passed frequently.
In the cities however, French drivers are aggressive and discourteous. Not once did another driver let me slide back into traffic from the side of the road. I would occasionally get caught in the left lane after my GPS suddenly tells me to go right, which was a nightmare. I thought I had learned the skills to make this aggressive lane change while driving in Toronto over the years. Sadly, no, I had to up my aggression levels while driving in France. Canadian drivers, take heed when I am back on the roads this fall!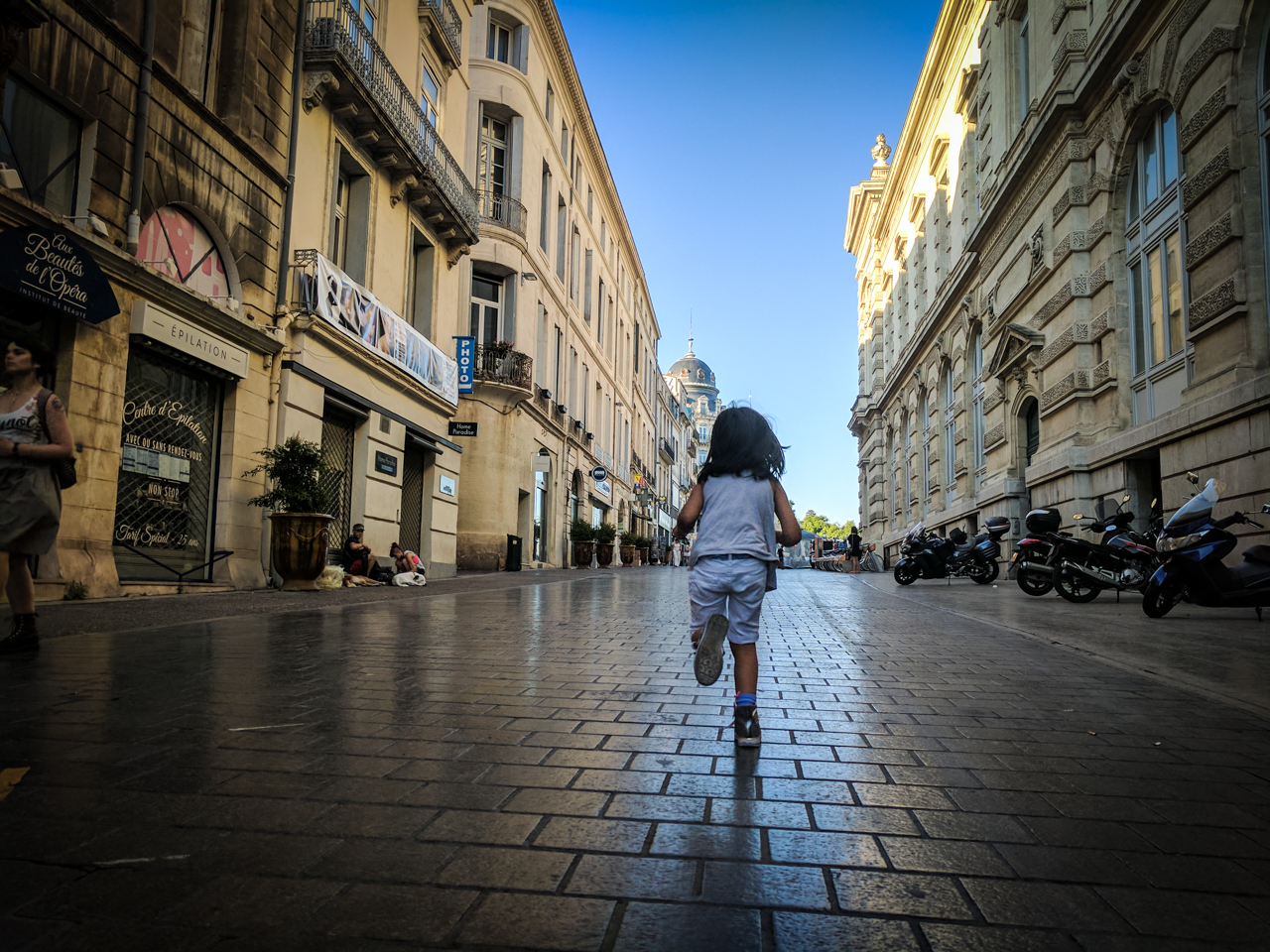 Overall, I hoped for a more enjoyable experience while driving in France. Even something as simple as listening to music from my phone was a task, since French radio is constantly interrupting the feed with traffic reports. However, the high costs I outlined are relative, because we are finding that train travel in France is also very expensive, and bus travel is an all-day affair. Having a high carbon footprint in France is very pricey.