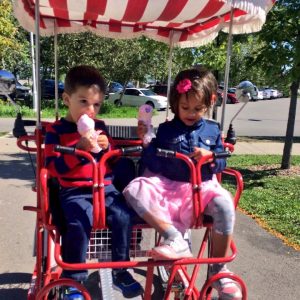 Living in downtown Toronto we do love hanging out at our Harbourfront area during all four seasons and so when we heard about Hamilton's Waterfront we made it a point to spend an afternoon exploring the area with kids. As you may recall, we won a weekend in Hamilton recently and I promised to head back and further explore the food scene, so this visit took place on that trip during a crisp fall September weekend. Had we visited during the summer months we would have made use of the free shuttles between downtown Hamilton and the Waterfront but given that our visit was during the month of September, we drove ourselves over.
Disclosure : We won a weekend in Hamilton through Travel Massive but as always, opinions are totally ours!
After our breakfast at the Staybridge Suites, we drove ten minutes to the waterfront area and then spent four hours doing various things that entertained the kids and adults.The 7.5 km Hamilton Waterfront Trail includes a variety of piers, parks and trails so you'll want to park your car at the main entrance and then explore the rest by foot, bike or trolley.  Below is how we spent a relaxing and active day at the Hamilton Waterfront.

Trolley : There's two  37 passenger trackless trolleys that departs frequently and we decided to start our day on this 1.5 hour narrated tour. The trolley took us through the 12 km trail as we followed the western shoreline of the harbour and I was truly surprised by how lovely the area is. Hamilton isn't just an old steel town! Blue waters and a fresh crisp fall day meant that we not only learned about the history of the area, we also spotted rare birds and prey which had Baby Boy and Little Monkey very excited! You pay the conductor so all you have to do is turn up and bring cash with you ( $6 for adults and $4 for seniors and kids between 4 and 12). Be sure to check the schedule before you head out though and keep in mind that this usually runs from June to November.
Ice Cream : Given their impeccable behaviour (and not leaning out of the trolley!) we had promised the kids some delicious Hewitt's ice cream from Scoops. So many amazing flavours and because we had a taste during our visit to Haldimand County so the kids knew exactly what they wanted!
Bike Rental : This was such a fun way to roam around on our own and the kids and I enjoyed it immensely! The hubs had to do most of the biking so I'm not too sure how much he enjoyed that portion! If you're short like I am, it's near impossible to comfortably pedal so keep that in mind when renting a Surrey. Bikes can be rented by the hour and we opted for the "Surrey" which allowed the hubs and I to pedal from the back while the kids were strapped in the front. They do ask that one person have a driver's license and also offer helmets and baskets at no cost. Since we had just done the trolley tour we knew exactly where we wanted to head towards!
Playground : Baby Boy spotted the Bayport tugboat playground at Pier 4 Park during  our trolley tour and even the ice cream didn't distract him from wanting to run around there. Swings, a mini splash ring (was done for the season obviously), plenty of slides and climbing structures can be found here.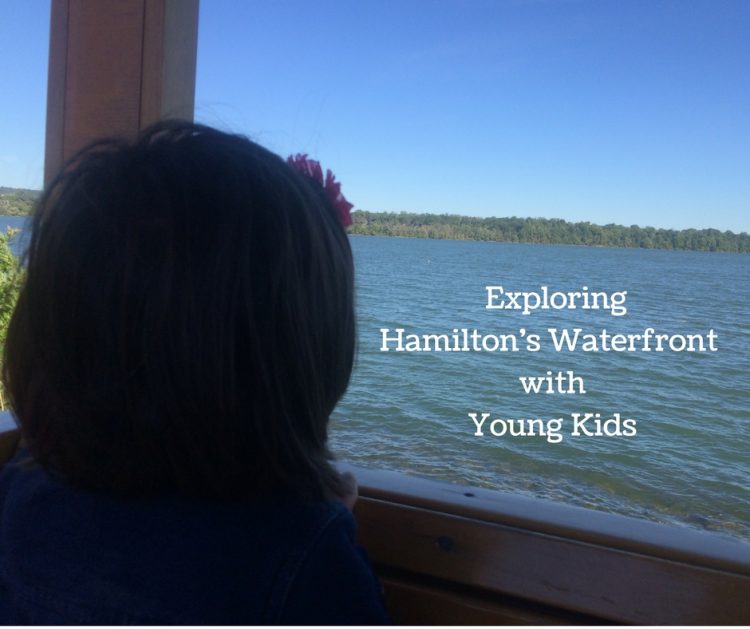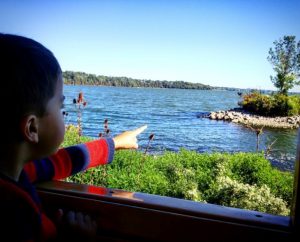 There's more on offer at the Hamilton Waterfront such as a roller/ice skating rink, endless trails (to spot the fall foliage!), an hour long boat ride and some beaches as well. I was shocked by how scenic the area is and think it's a great day trip for Toronto based families looking for something different to do. It's only an hour away from downtown Toronto and the change in scenery did us all good.