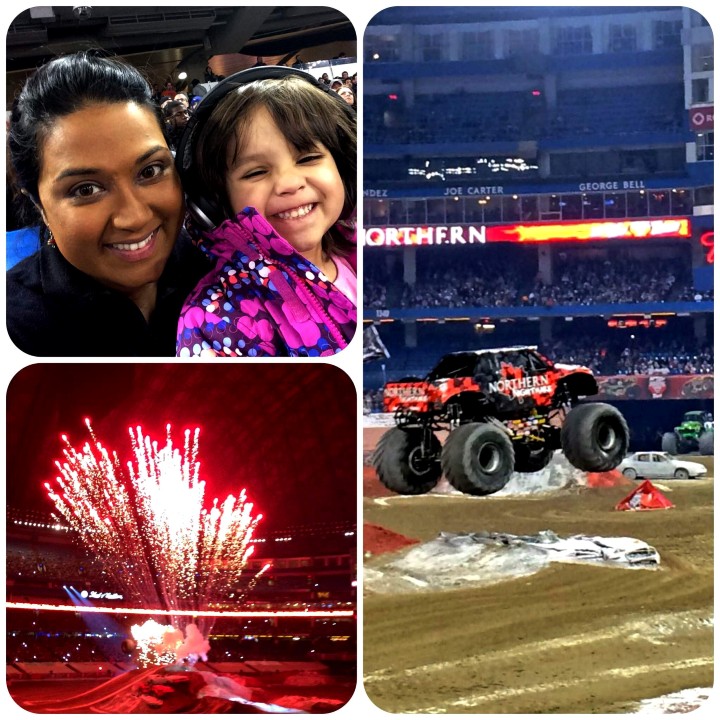 Remember how I told you that I didn't know if Little Monkey would want to see Monster Jam? Well… this weekend I made the mistake of taking Baby Boy, Little Monkey, the hubs and my brother all the way to the Rogers Centre in the freezing cold to check out Monster Jam, only to find out that my tickets were actually for the following day. DOH!! Little Monkey was NOT pleased. We had a full on meltdown followed by yells of, "I want to see Monster Trucks!". We managed to subside the meltdown by promising to take her to a friend's place instead, but the next day, Little Monkey and I went with a friend of mine to watch Monster Jam to see what the fuss was all about. It turns out that Monster Jam with kids is quite an experience, and I was surprised by how many kids of all ages were in attendance!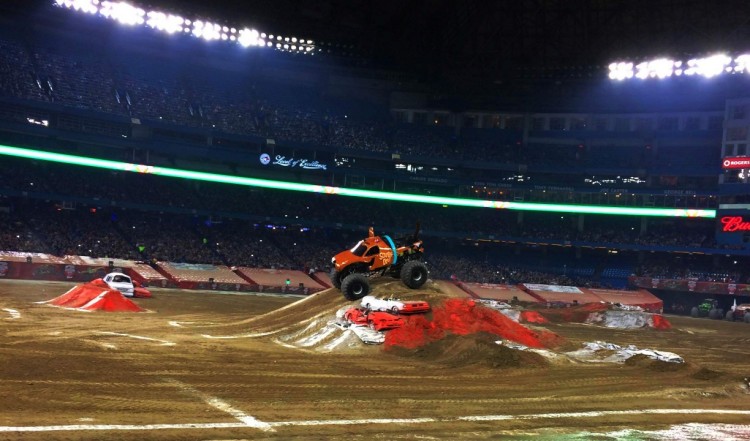 If you're driving to the show, give yourself plenty of time. Since we rarely drive downtown, it took us a while to figure our where to park but we finally found a spot at the nearby Intercontinental Hotel, where Valet parking is only $15 an hour – much cheaper than the $40 we saw at most parking lots! This show, called the Toronto Maple Leaf Monster Jam took place at the Rogers Centre and was approximately 2.5 hours long. We missed the first hour unfortunately, but the kids in front of us made sure to tell us how awesome it was. We watched in amazement as the ginormous trucks did high jumps and wheelies … oh yes, and quite a few flipped too, leaving me holding my breath until the drivers got out. The Scooby Doo flip was the one that freaked me out the most, but I was so glad when the driver, clad in pink, got out of her vehicle unharmed.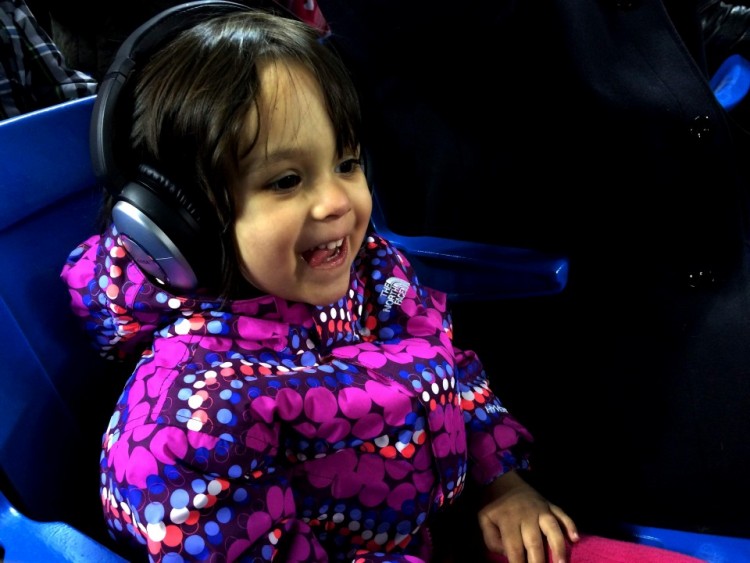 Little Monkey looked on with glee. I was very surprised by the fact that she wants to go back next year with Baby Boy. You can expect very loud noises, reverberations and a fair bit of fumes so be ready for that. I know that noise levels affect each kid differently and so it's hard to predict a child's comfort level with big bangs and revving engines, but here are a few tips I picked up along the way.
Noise Cancelling Headsets are a must!

Bring a good pair, not just the toy stuff. I have misplaced our Baby Banz but luckily the hubs lent us his Bose ones and they worked fabulously!

Bring snacks and milk for the little ones

. Line-ups can be long at the concession stand and so we brought raisins to pull out when Little Monkey did her usual, "I'm bored!" routine (she's rarely bored but actually hungry).
As with all events,

leave 10 minutes before the end if you want to avoid the mad dash

as everyone leaves the stadium.

Go for a walk in the fresh air after the event.

There are a lot of fumes and it's to be expected. Just air those lungs out after the event before getting back in your car and you'll feel a lot better.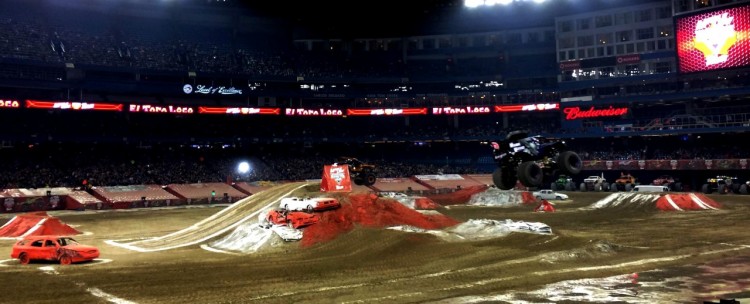 Honestly, I didn't think I'd like Monster Jam – just was not my thing. However, I will be going back because it was actually quite entertaining and Little Monkey, dressed in her princess shirt, liked it quite a bit. If you're anxious about the noise or the fumes, check out Sportsnet Grill Restaurant at the Marriott Downtown Hotel because you can watch the whole thing from the restaurant. If you can get seats at Sportsnet Grill, it's a great way to spend the afternoon watching the Monster Jam sessions while enjoying some cocktails and good eats.  If you have kids with sensitive years or infants, I think the restaurant is definitely the way to go. Can't comment on how the experience would differ but I guess there's one way to find out!
Have you been to Monster Jam?
——
If you are looking for other great family activities in Toronto, check out the Around Toronto section of our site. Our many activities in the city have included hitting up a Toronto Raptors Game with Baby,  Taking Young Kids to a Blue Jays Game, and most recently, visiting Wizard World.
Our series on Kid Friendly Toronto restaurants is a also great way to find some great eats for the whole family.