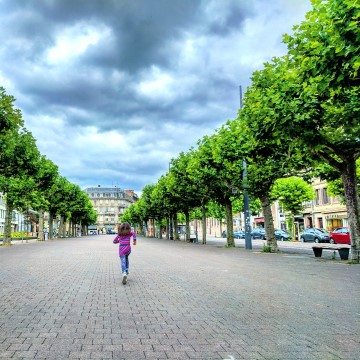 After our family spent much of June in Southern France, we planned to spend July in Germany and ended up discovering Strasbourg en route, a beautiful city resting along the border. I'll admit, I knew nothing about Strasbourg at the time. We noticed that it was an easy train ride from Lyon to Strasbourg. From there, we would be able to take either a train or a bus into Frankfurt. As a bonus, the GuestToGuest home we found in the city had a hammock and a small garden with a cat – just what we needed to appeal to the kids!
Our family spent 5 nights in beautiful Strasbourg with kids. We now know that it's a great spot for families looking to explore the Alsace region. The city's quaint, but stunning architecture, its lively atmosphere and charming downtown made Strasbourg one of our favourite cities in France. The city centre, Strasbourg Grande-Ile has been designated as a World Heritage Site since 1988 – the first urban centre in France to be classified by UNESCO.
Our home was located in Schilitigheim, close to the Black Forest and the European Parliament but also only a 15 minute tram ride from the historic city centre. We hit a couple rainy spells during our visit, but that didn't stop us from exploring our lush surroundings too much. On the rain free days, we explored the city centre, took an amazing boat through the city's waterways, and found plenty of great foods and desserts.
What to do in Strasbourg with Kids
Strasbourg Grande-Ile Historic Centre
The charming, mostly pedestrian alleyways of the downtown core give you the chance to get lost and discover the many shops that line the streets. Little Monkey and Baby Boy enjoyed roaming through the shops selling knickknacks, sweets and all sorts of bretzels. Chris and I enjoyed discovering the restaurants and quaint pubs where we were able to nibble on local delicacies. My advice to anyone visiting Strasbourg is to spend a couple hours roaming the downtown area and taking in the sights, the music (we spotted quite a few street musicians) and the gorgeous Alsatian architecture. I couldn't help but gawk at how well preserved the timber-framed craftsmen's homes and workshops of yesteryears were. By day and by night, this is one French city that was quite different from the others we visited in the south.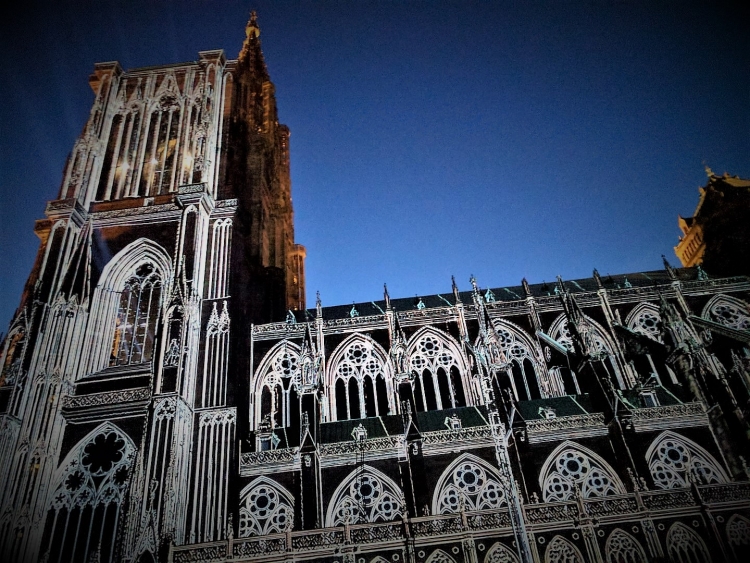 Notre Dame Cathedral
Okay so hear me out. There are 332 steps on route to the top of the cathedral. THREE HUNDRED and THIRTY TWO!  We did it thought, and it was worth it! Our 5 year old was whinny, but she made it to the top on her own. Chris had to carry 3 year0old Baby Boy for a majority of the 15 minute climb. It was a very narrow stairwell and we did have to make room for some others who were speeding up or coming in the opposite direction. That gave us an excuse to slow down and peer through the windows. The view from the top of this pink sandstone building is absolutely magnificent! I wish we timed it with sunset because it would have been the ideal spot at dusk!
Also note that there is a fully functioning cathedral that you can visit. Complete with an Astronomical clock that is an amazing masterpiece, this is the top attraction in Strasbourg for me. We didn't time our visit for the projection but we did see it up close and it was a true work of art.  This tallest medieval tower in all of Europe also has a light show after sunset. We stumbled upon it one night after a boat ride and I'm so glad we did. Note that the light show only takes place during July and August. We spent an hour here during the daytime visit and then another 15 minutes for the light show in the evening.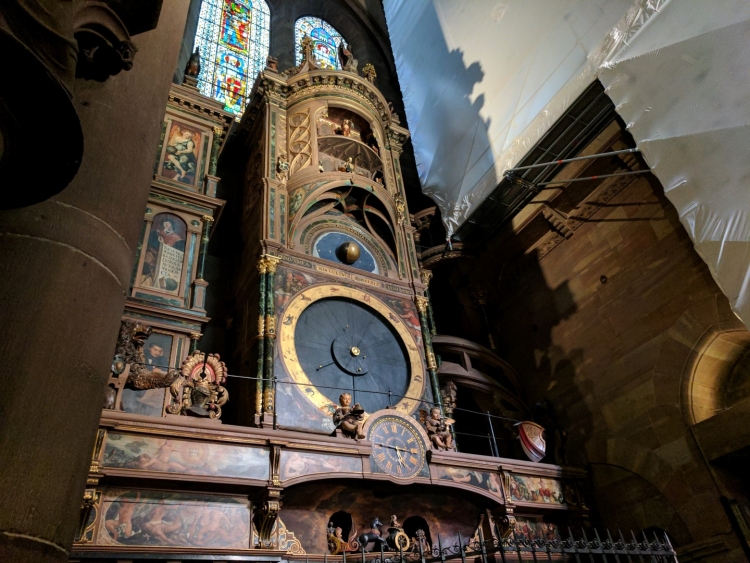 Batorama Boat Tour
We took quite a few boat tours during our 5 months through Europe with kids. This was one of the best. We timed it with sunset and liked that we all received both a history and architecture lesson. The kids even had their own channel to listen to and the roof was see-through! Being able to see the old city contrasted with the modern buildings of the European parliament while cruising through the aqueducts and bridges at dusk is a memory we won't soon forget.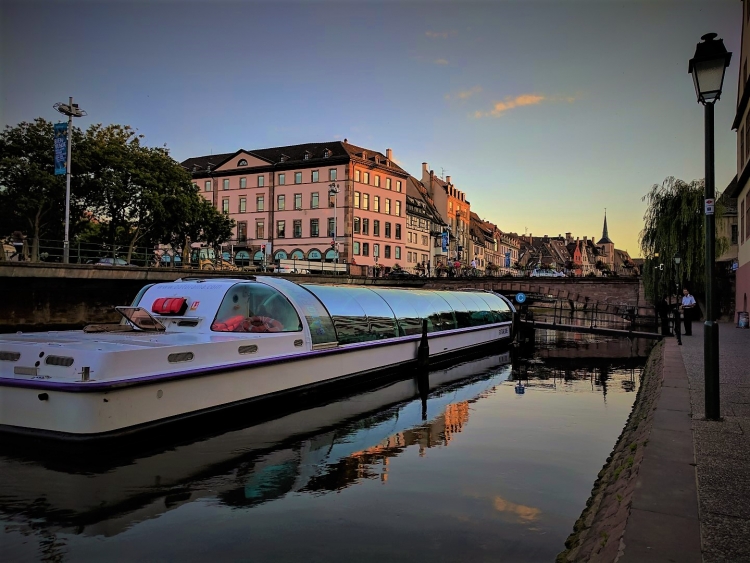 Alsatian Museum
While I enjoyed marvelling at the timber structures from the outside, we made good use of our Strasbourg Pass and went inside this museum located in 3 former houses in Strasbourg. They were linked by a maze of stairways and connecting passages and we saw over 5,000 artifacts depicting the daily life of Alsatians during the 18th and 19th centuries. It is a stroller friendly space but I was glad we didn't have ours with us. The kids wanted to roam around and inspect everything up close. The museum contains a collection of kids toys from the era, so that peaked our's kids during the one hour visit.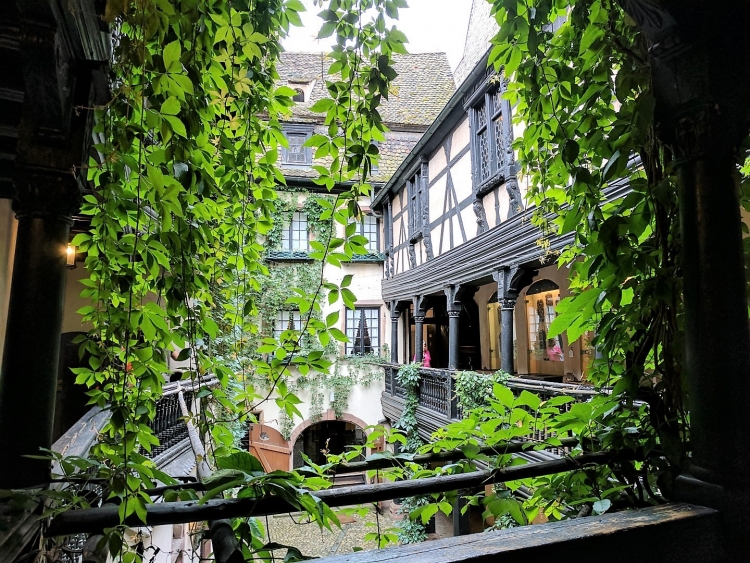 Food in Strasbourg
I finally found authentic Alsatian food! Our meal at the Michelin Star Au Pont du Corbeau was incredible! As you roam around the city, you will stumble upon carts filled with bretzels (yes, Bretzels), winestubs (think cute pubs for wine), bakeries and fine restaurants. We did cook a fair bit at our home but we also made it a point to venture out when we could so we could sample the Alsatian treats.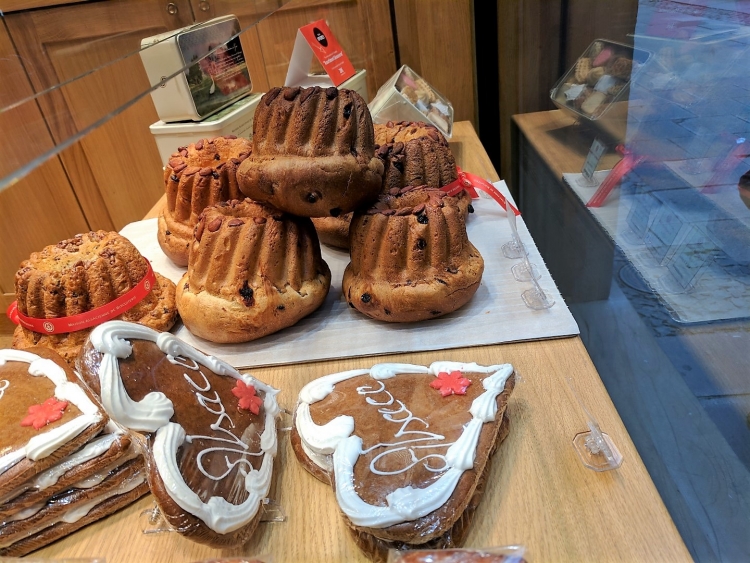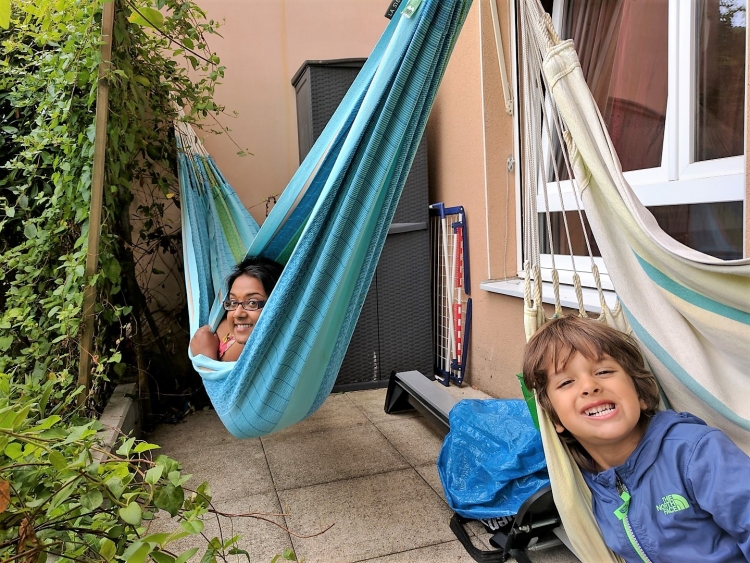 Chilling in our GuestToGuest home
While one could easily see a lot in just a day in Strasbourg, there is more to see in the city. You can find a full list of things to do in Strasbourg here. Our home exchange was right by a park and the summer fairground so we enjoyed a few evenings outdoors once the rain stopped.  I was told that since 1570, Strasbourg is home to Europe's oldest Christmas Market and that the city sparkles with countless lights and colours.  I hope to venture back one day to experience that!