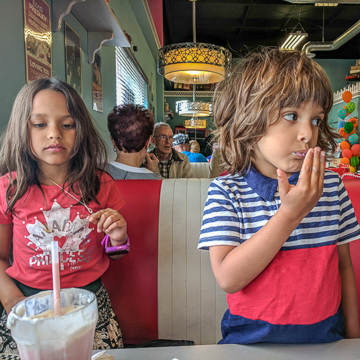 Our family recently spent a weekend exploring Ontario's Grey County. The area features some of the premier tourist destinations within 200 km of Toronto. Containing a number of communities along the south shores of Georgian Bay, Grey County is a great place to escape the big city for a weekend. With a number of water falls, beaches, and outdoor attractions, visitors have the opportunity to relax, explore nature, and enjoy some amazing sunsets. We found quite the list of the things to do outdoors in Owen Sound with kids!
The food is great too. We discovered a number of restaurants that featured local meats and produce in a variety of surroundings. In downtown Owen Sound, we discovered great Mexican eats as well as a promising new brewery. In the communities surrounding the city, the home cooked meals we enjoyed gave us a taste of home while we were on the ground. Since there are so many great places to explore in the area, we were happy to discover that a great meal was never too far away.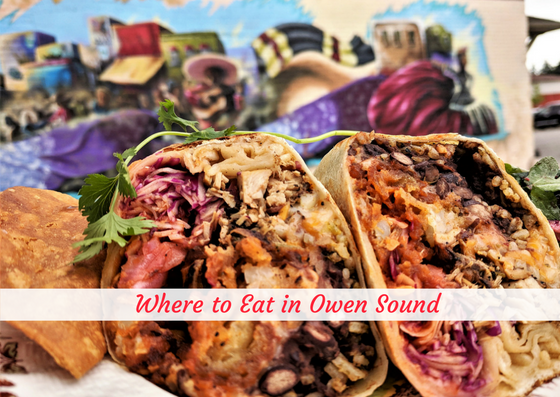 Elsie's Diner
We stopped at Elsie's Diner on route to the fantastic Grey Roots Museum & Archives. The place brought us right into the 50s. Along the wall, a jukebox is filled with Elvis Presley hits from the era and a portrait Marilyn Monroe smiles down on patrons as they enjoy home cooked meals in bright red booths. The diner is known for its fried chicken but I opted for one of the many burger offerings. The beef options contain local beef and there are also chicken, salmon, and veggie burgers to choose from. Yashy opted for the fried liver while the kids enjoyed the mac & cheese. As a treat, the kids also devoured a strawberry milkshake that looked too good to resist. This is a great place to stop for a hearty lunch.
Mudtown Station Brewery & Restaurant
The recently launched Mudtown Station Brewery lies along Owen Sound Harbour. It has a large outdoor patio next to a grassy field where kids can run around. Their tap list contains a nice selection of craft beers from the area. Soon, the brewery will be serving their own craft beer, which will make it a must stop for any beer lovers visiting the Owen Sound area. They also have a nice cocktail list and some amazing snacks. The Warm Cornbread with Honey Popcorn Butter is a must, and the Falafel with Hummus, Cucumber, and Harissa was an ideal afternoon snack. We even had the opportunity to take a canoe to the brewery, courtesy of At Last Adventures, and so we truly earned the refreshing brews we enjoyed on the patio.
Sweetwater Restaurant & Bar
Next to the Cobble Beach Golf Course, the Sweetwater Restaurant & Bar lies in a picturesque setting that overlooks Georgian Bay. The highlight for us was the Calamari Fritto, which was excellent, but we didn't have much luck with our entrees, the pizza special topped with prime rib and the Housemade Gnocchi. We had heard good things about the restaurant and so we seem to have been unlucky in our choice of dishes, but the relaxing atmosphere made the visit worthwhile. Grab a glass of wine and a plate of Calamari as you enjoy sunset from the patio!
Coffin Ridge Boutique Winery
Located about a 20 minute drive from downtown Owen Sound, Coffin Ridge Boutique Winery lies in an idyllic countryside setting that turns magical at sunset. It's worth the drive to find the somewhat hidden location. With a range of ciders and wines available, including the very nice Marquette Red, and ample space for the kids to play, it's near perfect. If you enjoy scenery, this is the ideal place to enjoy a beverage . Cheese plates are available if you are looking for a snack and you may even consider spending the weekend in one of the two houses on site.
Casero Kitchen Table
After a morning exploring the Bruce's Caves Conservation Area, we did not expect to find authentic Mexican tacos in downtown Owen Sound but we're happy that we did. Casero Kitchen Table serves up a range of burritos, tacos, and quesadillas and so we went with a little bit of everything. The Beer Battered Whitefish, Hickory Smoked Beef Brisket, and Grilled Shrimp tacos that I ordered were all delicious. Yashy opted for the Burrito, and the kids snacked on the Quesadillas, which we referred to as Mexican grilled cheese sandwiches – whatever works! The restaurant even has a homemade hot sauce that is available for purchase and a surprisingly good range of craft beer available. The prices are a little high but I really recommend seeking this place out.  If you can't make it to the restaurant, the Casero Taco Bus is often parked at Sauble Beach.
Bruce Wine Bar
Known for its wood fired pizza, Bruce Wine Bar serves up a tasty range of appetizers and cocktails as well. Located in The Blue Mountains, the wine bar offers affordable gourmet dishes, a nice range of drinks and delicious pizza. What's not to like? We started with the Black Lentil Salad, a welcome infusion of vegetables after a weekend of heavy eating. The chili lemon dressing made it a particularly flavourful dish. For our second appetizer, we opted for the Grass Fed Ontario Beef Tartare, topped with sous vide duck yolk, and in a word, amazing. The pizza certainly didn't disappoint either. We choose the Cured Salami. It's not spicy so that kept the kids content. Luckily, they offered a nice chili oil for us spice-loving adults.
Great Books & Cafe
Along Route 6 on our way back to Toronto, we stopped in at Great Books & Cafe at the Williamsford Mill. The cafe was formerly a grist mill and is a charming place to spend an afternoon. The husband and wife owners have assembled an impressive collection of new and used books for sale. In the kitchen, they whip up all day breakfasts, sandwiches, wraps, and even a few entrees. I enjoyed the pan fried trout and a generous amount of thin cut fries. For dessert, their butter tarts are widely known in the area.
After three days of driving through countryside and discovering great places to eat in Grey Country, we felt that we had found a nice sample of the region's food offerings. Most of the places we visited made good use of local ingredients. Enjoying our meals in such beautiful surroundings was a treat. We loved meeting people who took pride in their food offerings and were happy to share their stories.