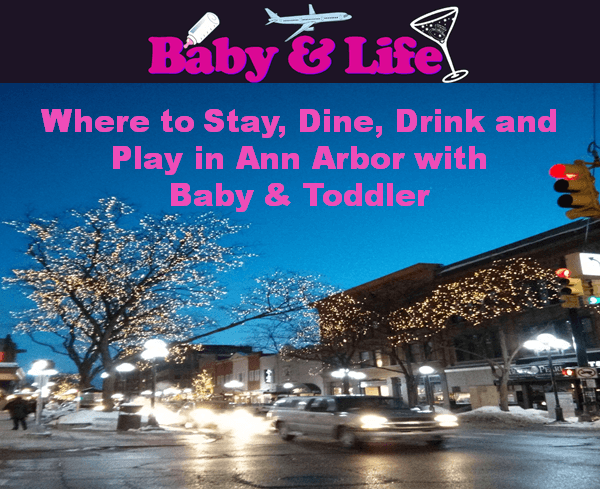 Our winter getaway this year was to Ann Arbor and we spent a near perfect long weekend exploring craft beers and fine food with two kids in tow. As many of you know we like to strike a balance between what we enjoy doing and what the kids would like and the winter getaway tends to always revolve around beer given that it's the hub's birthday weekend (gotta love family day long weekend in Canada!). Ann Arbor, where they pride themselves on doing life different(ly), is a perfect getaway for families looking for culture, fun and foodie exploration. One thing for sure… the moment you enter Ann Arbor you know you're in a college town… there's just SOMETHING  about great college towns, don't you agree?
Disclaimer : Our trip was partly sponsored by the Ann Arbor Tourism Bureau but as always, all opinions are totally mine!
Where to stay
There's many a hotel in Ann Arbor and we found ourselves in "hotel row". There were many hotels and we were lucky enough to stay at the Hilton Garden Inn and absolutely loved everything about it. Sure it isn't in the downtown core but it was a quick and cheap drive over. The highlight was the amazing Cool Pool which is perfect for kids of all ages – from toddler to teen. We also loved having access to a microwave and a fridge in our room. Easily stored my pumped milk so I could enjoy a couple pints! You can read a full review here.
Where to Dine and Drink
There's no shortage of options in Ann Arbor when it comes to cuisines of all sorts. Foodies of all walks will definitely find what they want here. We also hunted down some amazing beer joints that welcomed kids. Can't visit Michigan and not explore the craft beer scene – am I right?
 Frita Batidos : Come here for some quick Cuban inspired street food. It can get a bit overwhelming choosing what you want as soon as you enter the venue but be prepared! We loved that it was quick and that they had a clip on seat for the toddler. We got the chorizo frita with garlic and cilantro fries with churros for dessert. LOVED those fries!! We also got the fried plantains but didn't love them as much as the fries. Be sure to mention how you like your meat cooked because we didn't and got some rare chorizo! Still delicious though. Sad I didn't try out their Batidos which are milkshakes in some fancy flavours! Yes they also have a kids menu but the Little Monkey ate my fries instead!
Blue Tractor : Come for the beer stay for the BBQ. I was surprised by how empty the place was on a Saturday afternoon only to realize that we were in a private area and not in the main bar setup! It was fine by us because I was able to park our stroller while the little one took a nap. High chair and kids menu- check! Favourites included the Thyme and Cheddar biscuits and the grits. The burgers were so-so and I kicked myself for not trying their brisket! They brew their own pints here and you can enjoy many a sampler session.
Jolly Pumpkin : Our favourite beer finds were here! Knowledgable staff, high chairs and a baby change table are all on offer. It's a mystery that we didn't spend all weekend here! We enjoyed many a pint but didn't sample any of their food unfortunately. You can bet your bottom dollar that we'll stop by here on future travels!
Cupcake Station : A quick stop here to get that sweet tooth fix… plenty  of options depending on what time you get there. Best of all.. they have mini cakes so you don't have to feel too guilty about indulging.
Ashley's Ann Arbor : This rustic pub was very welcoming! Despite it being Saturday evening they found a spot for us at the back so we could park our stroller and our group of 6 adults and two babies were well looked after. The server gave bang on beer suggestions when it came to each of us and we were thankful since the menu was quite vast.
Arbor Brewing company : Fantastic array of sampler beers on offer and while we didn't dine here our friends did. Looked like your typical pub food for the most part but what I loved about them here is that they brought me some milk when the Little Monkey woke up from her nap all cranky! And the milk was in a paper cup which was brilliant! Again… plenty of stroller parking available by the table.
Aventura : Looking for a fancy tapas dinner spot with tots in tow? This is your place! We sampled many items from their menu and most of them ended up in our faves list. You can read a full review here.
Where to Play
From art to food exploration there's plenty to do in Ann Arbor and on one weekend we managed to squeeze in a visit to a few of many spots on our hit list!

Hands-On Museum : With kids in tow you definitely want to pop by here for a quick visit as it'll tire them out for the rest of the day and you can enjoy that pint of beer as they nap in the stroller! Lots to see, do and learn here for the very young to the very old! Housed in an old fire station there's everything from a mini fire truck to a big bubble dome! You can read the full review here.
Downtown Ann Arbor : Just walking around downtown is a lovely way to spend some time. Many a hidden alley and inevitably you're bound to enter the campus that city is so proud of. Depending on the season there's various events and displays for visitors to enjoy and during our visit they had an ice sculptures scattered throughout the downtown core. Sadly it is a true college town and a few were destroyed by a rowdy kid or two.
Schakolad Chocolate Factory : We loved that everything was made right in front of your eyes here… amazing hot chocolate which I only got to sample (why didn't I get my own???).  They pride themselves in using a tried and true three-generation European style family recipe to hand craft each of their items. This unique Made Fresh on Premise concept yielded a fine variety of chocolate which were great as souvenirs for those back home! Can you tell we love our foodie souvenirs?
Zingerman's : You can't visit Ann Arbor without a visit here. Sure you have to try some of their famous sandwiches but I say this spot is better for loading up on fab gifts for the foodies in your life. Sure the smoked meat sandwich was good but it wasn't mind blowing… that collection of aged balsamic vinegar and truffle oil salt.. now we're talking!
Cherry Republic : Did you know that Michigan is known for their cherries? Neither did we! A stop at this boutique was exactly what we needed for the rest of our gifts. Preserved cherries, chocolate chili cherries, cherry wine, cherry honey… oh the list goes on and on. Best part is that you get to sample EVERYTHING!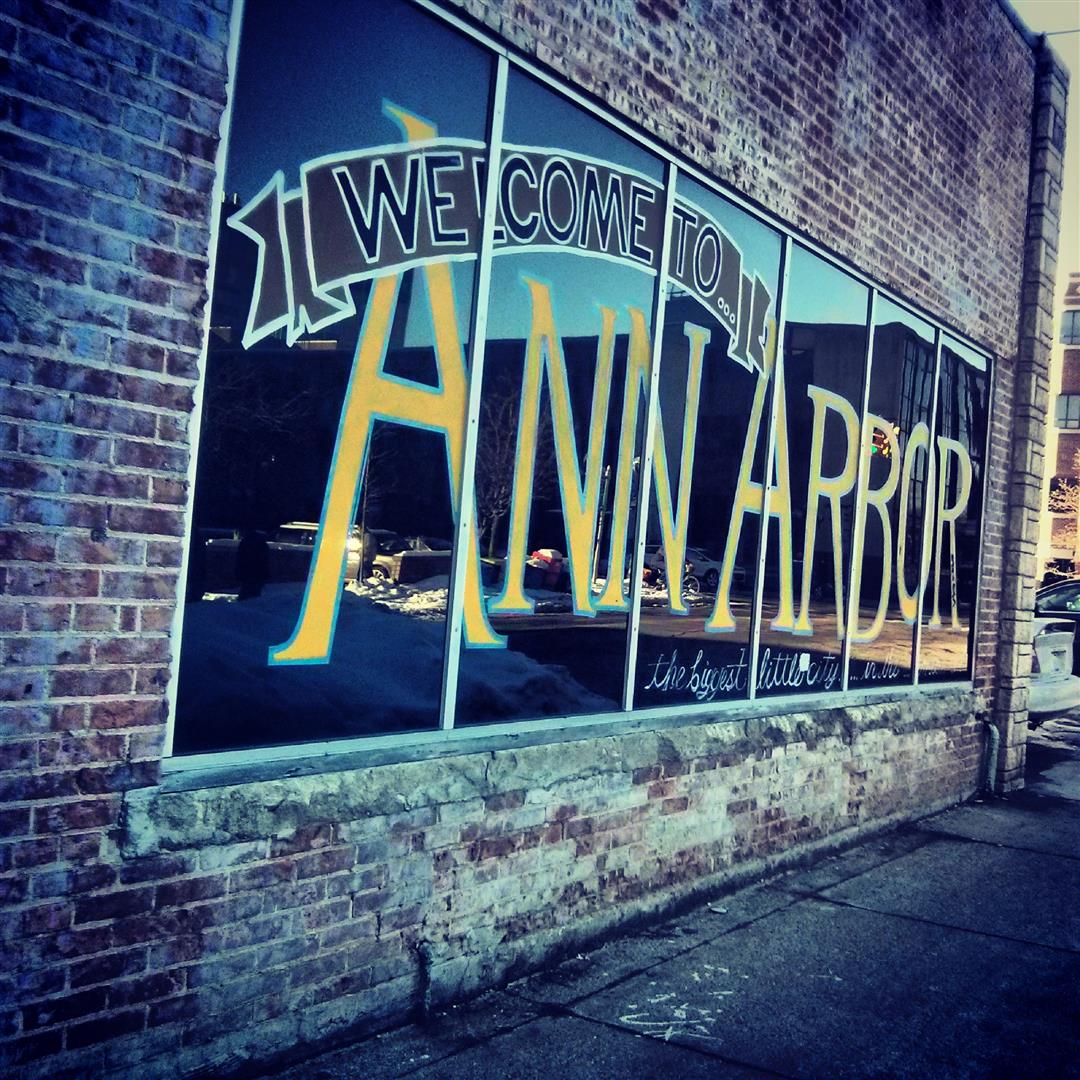 There's plenty that we missed on this trip and always we were left saying we'll be back! Highlights of places for our next visit include Domino's Petting Farm, Colonial Lanes Shopping , The Great Lakes Zoological Society's Conservation & Rescue Center, The University of Michigan's Matthaei Botanical Gardens and the awesome Jungle Java. The Visit Ann Arbor site has plenty of other suggestions no matter who or why you're visiting Ann Arbor!
!