Note: This is the twelfth and final entry in a series of posts looking at the Kid Friendliness, Entertainment Value, and Life Lessons for Kids from the Disney Princess movies. Previous posts covered "Snow White and the Seven Dwarfs", "Cinderella", "Sleeping Beauty", "The Little Mermaid", "Beauty and the Beast","Aladdin", "Pocahontas", "Mulan", "The Princess and the Frog", "Tangled" , and "Brave"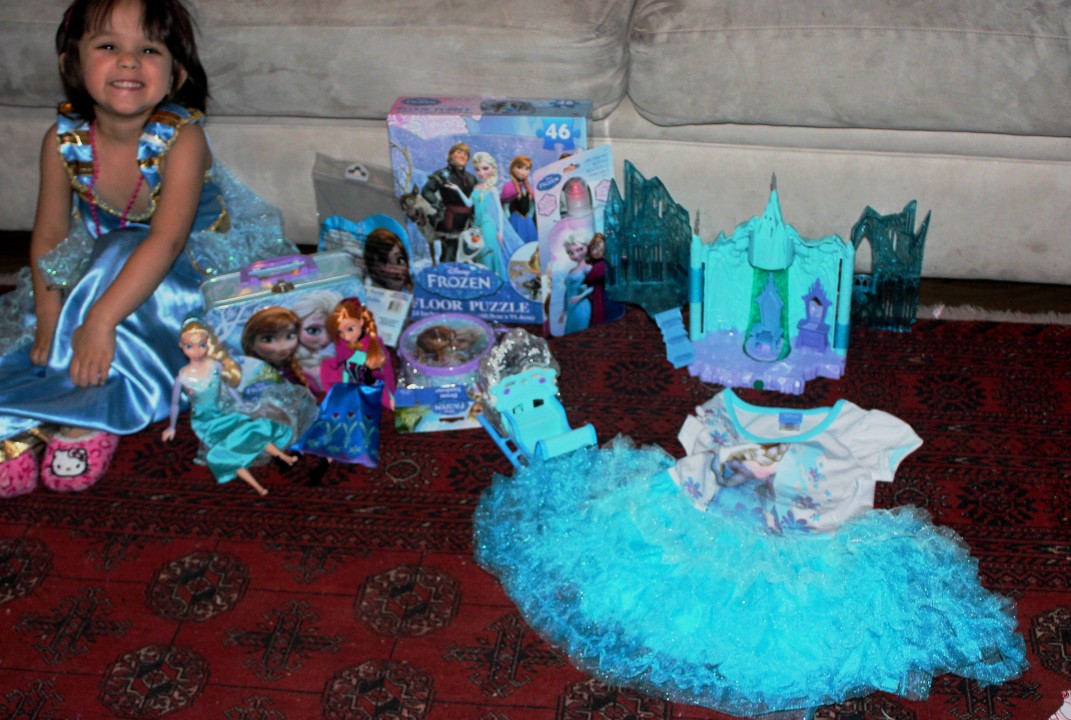 By now, every parent raising a small child must have a "Frozen" story, a humorous, little anecdote to compensate for the anguish of living in a house overrun with Frozen dresses, and Frozen lunch boxes, and a pile of Elsa and Anna dolls, and little snowman Olafs, and Frozen socks, and Frozen shoes, and. of course, "Frozen", playing on a daily loop, with the kids eagerly awaiting the "Let it Go" scene and ready to sing it loudly and proudly. I rant, but it's not so bad really. Our house is neither the Frozen merchandise filled wasteland I make it out to be nor is it all "Frozen" all the time. It can seem that way, but only sometimes.
The halls of Disney corporation must have seemed a little like those at Apple in 2014. After accumulating nearly $1.3 Billion at the box office and generating an estimated $1 Billion more in merchandise sales, the film is a phenomenon on the level of Star Wars a generation ago – only I don't remember seeing Luke Skywalker as frequently as I do Elsa and Anna. When I look back on my kids' early days, my memories will be filled with "Frozen" details. On some days, I am sitting on the couch as The Little Monkey comes up, pulls her hands toward her face and extends them straight out towards me with a "ssscchhhsssshh" sound, telling me that she has just froze me, then the Little Man gets in on the action too. Another time, she insisted on walking outside in the dead of winter with no jacket, because "the cold never bothers her anyway". At home, she pretends she is Elsa and that the Little Man is Anna. With friends, fights erupt over who is really Elsa. Let's just say that "Frozen" has added more color to my days.
The success of "Frozen", while a surprise, is no fluke. Disney has been focused on bringing Hans Christian Andersen's "The Snow Queen" to the big screen since the 1940s, and after numerous failed attempts, began realizing the film in 2008. Along the way, the evil snow queen was reenvisioned as a misunderstood heroine, and Anna and Elsa, it was decided, would be sisters. Amazingly, but not surprisingly, the song "Let it Go" became the impetus for rewriting Elsa as a more sympathetic and vulnerable character. The sister idea became the focus, and at one point, Disney held a "Sister Summit" in which women from the studio were asked to discuss the  relationship they had with their own sisters. What resulted was a heart-warming, and thrilling, adventure that focused on sisterly love, a shift in the traditional Disney Princess storyline that would prove to be one of the greatest ideas ever developed at Disney.
Entertainment Value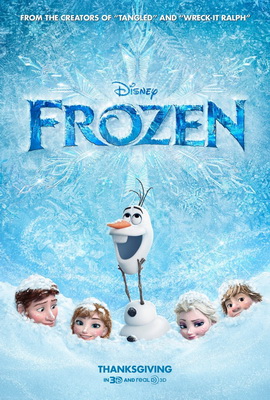 Engaging characters, catchy songs,  beautiful visuals, and a great story all combine to make "Frozen" one of Disney's most enjoyable films. Even the Little Monkey's grandfather enjoyed the film when we played it for him last Christmas. Frozen's score and soundtrack are arguably the best from any Disney film. "Let it Go" may seem to be everywhere at once, but it is a great song, and the film contains a number of other tunes to which kids enjoy singing along. After its introductory scenes in Elsa and Anna's kingdom of Arendelle, the film moves at a frantic page once Elsa runs away, leaving her kingdom covered in ice. The film features many memorable characters, including the magic troll dolls, the mountain man Kristoff and his raindeer sidekick, Sven, and of course, Olaf, a talking snowman, all of whom capture kids' imagination and provide comic relief.
Kid Friendliness
"Frozen" is suitable for all ages. The film does contain some frightening scenes, most notably when Anna, Kristoff, and Olaf are chased by a giant snowman and during finale when the evil Hans raises his sword to kill Elsa, but if your kid has seen any other Disney films, he or she can certainly watch "Frozen".
Elsa and Anna's parents are lost at sea early in the film, and though the Little Monkey has never asked where they went, I have been told by some friends that their kid gets a little upset during this scene.
Life Lessons for Kids.
Never get engaged to someone you just met!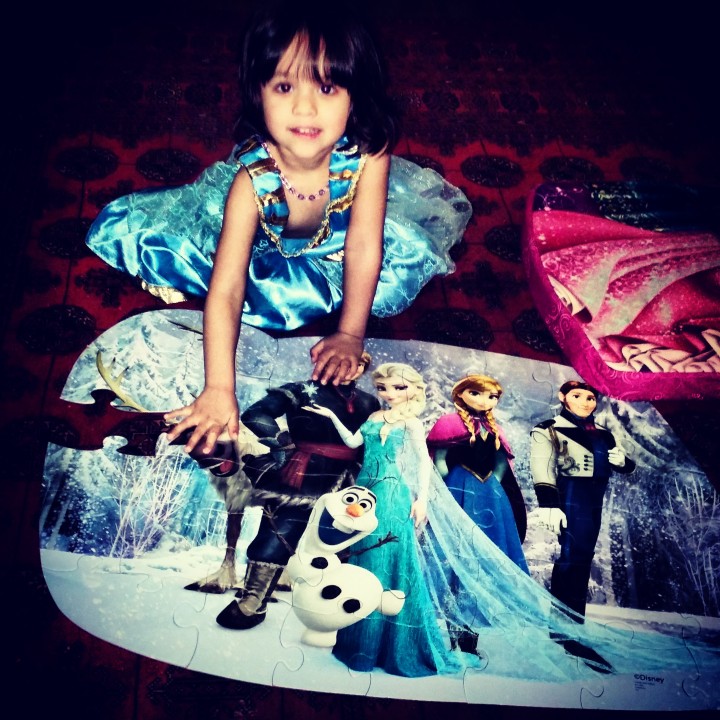 Film critic Chris Connelly feels the success of the film lies with the heartwarming plight of Anna and her unrequited love of Elsa. Her act of true love at the end of the film saves her sister, and despite her naivete when it comes to men, Anna's loyalty is the key to reuniting her family. But despite Anna being the true heroine of the film, Elsa gets all the attention. Little girls seem drawn to her power and her independence, but in the end, Elsa needs family. She may like being alone and free, but no one truly wants to be alone. Ask your kids why they like Elsa so much, and then point out that Anna saves her, and the kingdom, because Elsa is her family and she wants to keep them together. Elsa's decision to keep her powers a secret also hurts her and isolates her. If she trusted Anna, her sister, all along, she would have had a friend during all those lonely years.
That covers all of the Disney Princess films. Stretching back to 1938, Disney has released 12 full length animated movies about princesses. Some of these heroines are heroic, others kind and gentle, and many, daring and adventurous. Like it or not, the Disney Princesses are role models to millions of young girls and boys. For the most part, Disney gets it right. The series has produced some of the greatest animated films ever made and many of the most memorable songs from all of our childhoods. After 77 years, the series will continue, with"Frozen 2" on the way and more to come.
Here is a summary of the 12 films, with my grades next to the films in the Entertainment Value section.
Entertainment Value and Grade
Beauty and the Beast – A+

The Little Mermaid – A

Snow White and the Seven Dwarfs – A

Frozen – A-

Cinderella – A-

Aladdin – B+

The Princess and the Frog – B+

Mulan – B+

Sleeping Beauty – B

Tangled – B

Brave – B-

Pocahontas – C+
Kid Friendliness
Cinderella

Aladdin

Frozen

Snow White and the Seven Dwarfs

Mulan

Beauty and the Beast

The Little Mermaid

Tangled

The Princess and the Frog

Sleeping Beauty

Brave

Pocahontas