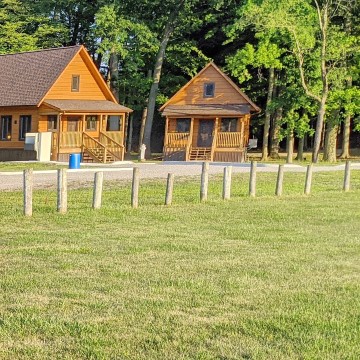 Last week we enjoyed our very first overnight road trip in Ontario since the pandemic started. That's a huge deal for us as we tend to travel at least once a month when we're in Ontario. I was nervous about spending a night away from our bubble but it was truly energizing. Chris, the kids and I felt our spirits soar during our Ontario road trip from Toronto to the Heart of Ontario with Attractions Ontario. It was an easy way to reconnect with nature, bond as a family and learn about Indigenous culture. We've been singing praises about our stay at the Chiefswood Park Cabins and wanted to share our review of staying in the Six Nations of the Grand River Territory and learning from the locals.
Disclosure : We were guests of Attractions Ontario and Heart of Ontario but, as always, opinions are TOTALLY ours!
Where is Chiefswood Park Cabin?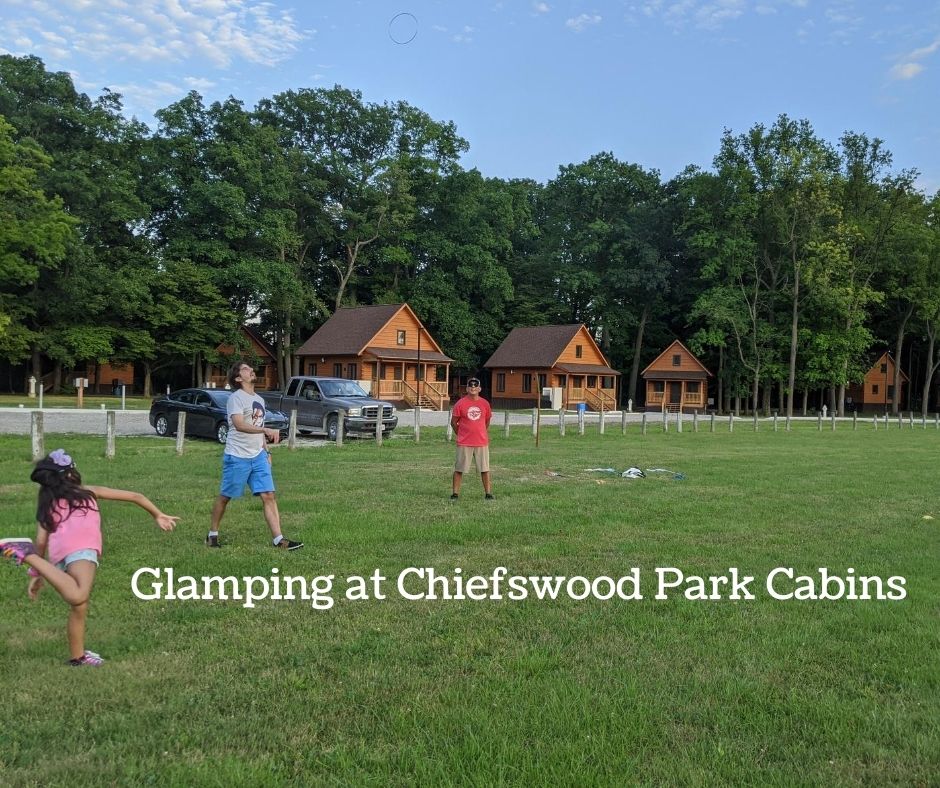 This family friendly Ontario Cabin is located an hour's drive from downtown Toronto in Heart of Ontario's Brant County. The cabins are located in the Chiefswood Park (there is also a camp ground on-site) on Six Nations Territory and we were grateful that we had a chance to not only experience the warm Six Nations hospitality, but also learn about rich Indigenous history from the locals. Despite being within 100 km of Toronto and Hamilton, the town is still unknownst to most GTA families and that's a shame. Six Nations is the largest First Nations reserve in Canada and I hope many Toronto families will take the opportunity to grasp these immersive and educational experiences. If you're looking to learn more about the Six Nations experiences wander over to the Six Nations Tourism site.
A Review of the Chiefswood Park Cabins in Ontario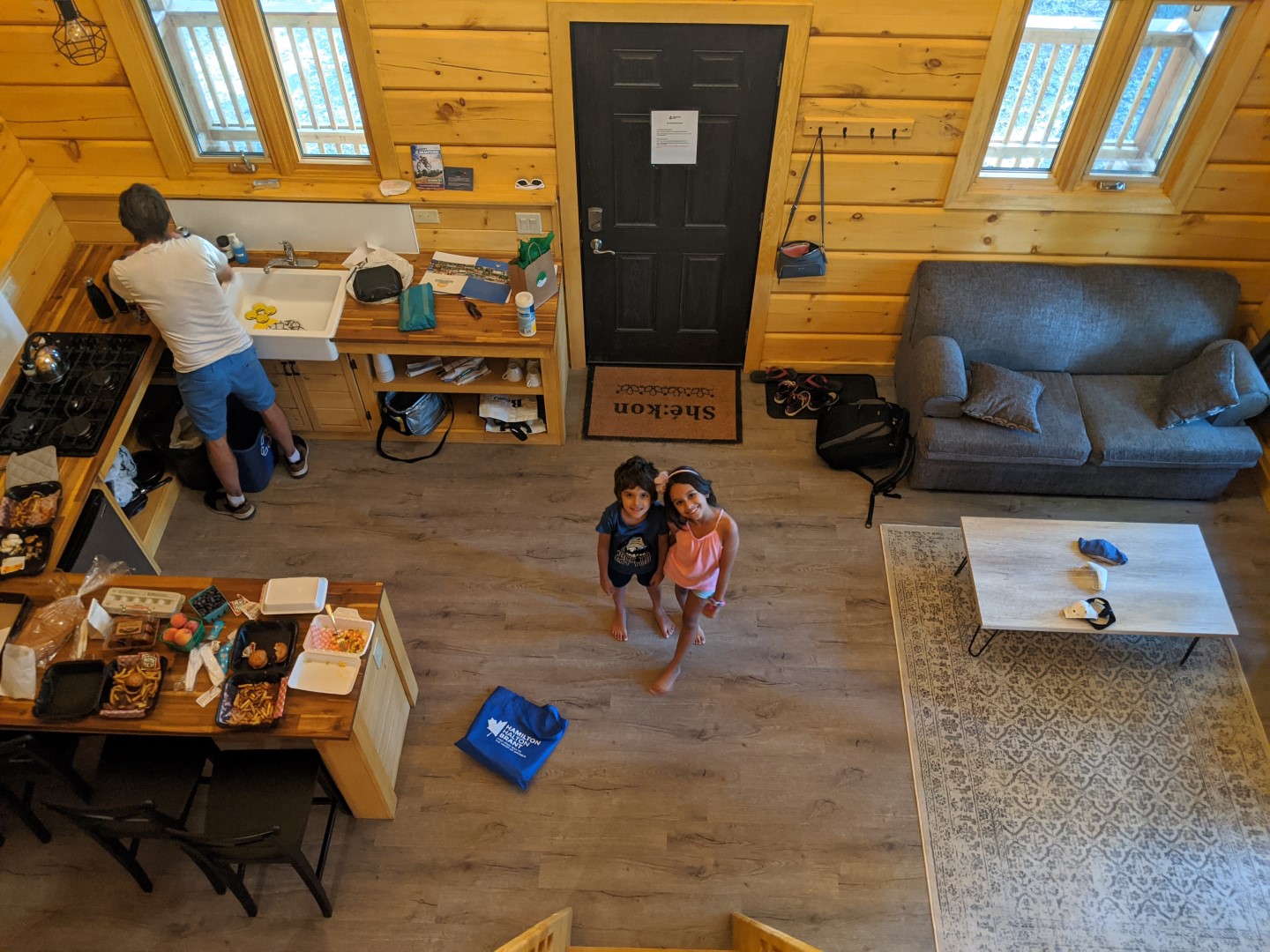 The Chiefswood Park Cabins are located in the Chiefswood Park where many families camp at. These family friendly Ontario Cabins are brand new and extremely clean, making it a great spot to stay at when looking to explore the Hamilton, Halton and Brant region during the COVID-19 pandemic. After a quick check-in at the front cabin we drove up to our cabin and were impressed by what greeted us. Our "Grand cabin" accommodated up to 7 people and had a lounge area with a kitchenette and pull out couch, a master bedroom (connected to the bathroom) and an upstairs loft area which had 4 single beds. This Cabin reminded me of the Goldilocks story because that's just what I had pictured the Bears' home to look like. We had everything we needed for an comfortable overnight stay in Chiefswood Park.
Upon arriving, we all hung out in the kitchen area and enjoyed the takeout from Burger Barn. I highly recommend stopping in and either dining on their outdoor picnic area or bringing southern style comfort food back to your cottage. I OBVIOUSLY got the menu item called "Kitchen Sink" and while the pictures don't do it justice, this one dish was good enough for two whole meals!! It was massive with double patties, pulled pork, mac n cheese, dusted jalapeno and plenty of cheese on my burger, and it came with a smoked brisket poutine. The kids and Chris had some simpler options but even they will tell you that the quality of the meat here is amazing!
In the evening, we lounged around and had a quick bonfire outdoor. You can purchase wood from the front cabin but one thing I'll mention is that you will need to bring your own lounge chairs. There weren't any in the cabin to pull out so the kids and Chris stood around the fire for a bit regretting that we didn't pack a s'mores kit! Once the kids CLIMBED up to bed, Chris and I retreated to the bedroom and watched tv. Yes, the TV is in the master bedroom and there's Wi-Fi in the cabins so you can easily use your ROKU. Things are open concept so hanging out in the living room wasn't an option as the kids beds were in a loft area overlooking the main area. Our master bedroom had doors so it was no issue at all. Having access to our private bathroom was crucial for me. I'm not one to camp so this was the only way I would spend a night in a park. The washroom even had toiletries!
The next morning, we cooked up breakfast in the kitchen. In addition to the gas stove and mini fridge, we had pots/pans, cutlery and plates/bowls. They even had dish soap for us to use. With many local farms in the area, I highly recommend you stocking up on some local goods. I'm still dreaming of the Brantwood Farm Cider Donuts. The milk and cheese from them were also Ah-MAZING! If you are planning to come for a week, you may not want to bring too many fridge items, as it is a mini fridge. You may need to bring your own cooler and stock it with ice every couple of days, or shop locally frequently. As with any cottage/cabin, bring your own seasonings/spices but at least you don't need to worry about bringing linens, towels and pillows here. As previously mentioned, I'd also bring some extra lounge chairs to sit outdoors in. In the Grand cabin we had one two-seater couch and a couple of stools but not much else in terms of seats. If you're planning to be out in the park for most of your days, the lack of seats won't be an issue! I will also mention that if you're travelling with grandparents, the ladder to climb upstairs won't be an option for them, so you might want to use the pull out couch as well. To make reservations you have to call the park as this is one way they're monitoring the safety of their staff and community during these times. There is a playground but since they have opted to stay in stage 2 during these times, it was closed off.
Things to do at Chiefswood Park Cabin in Ontario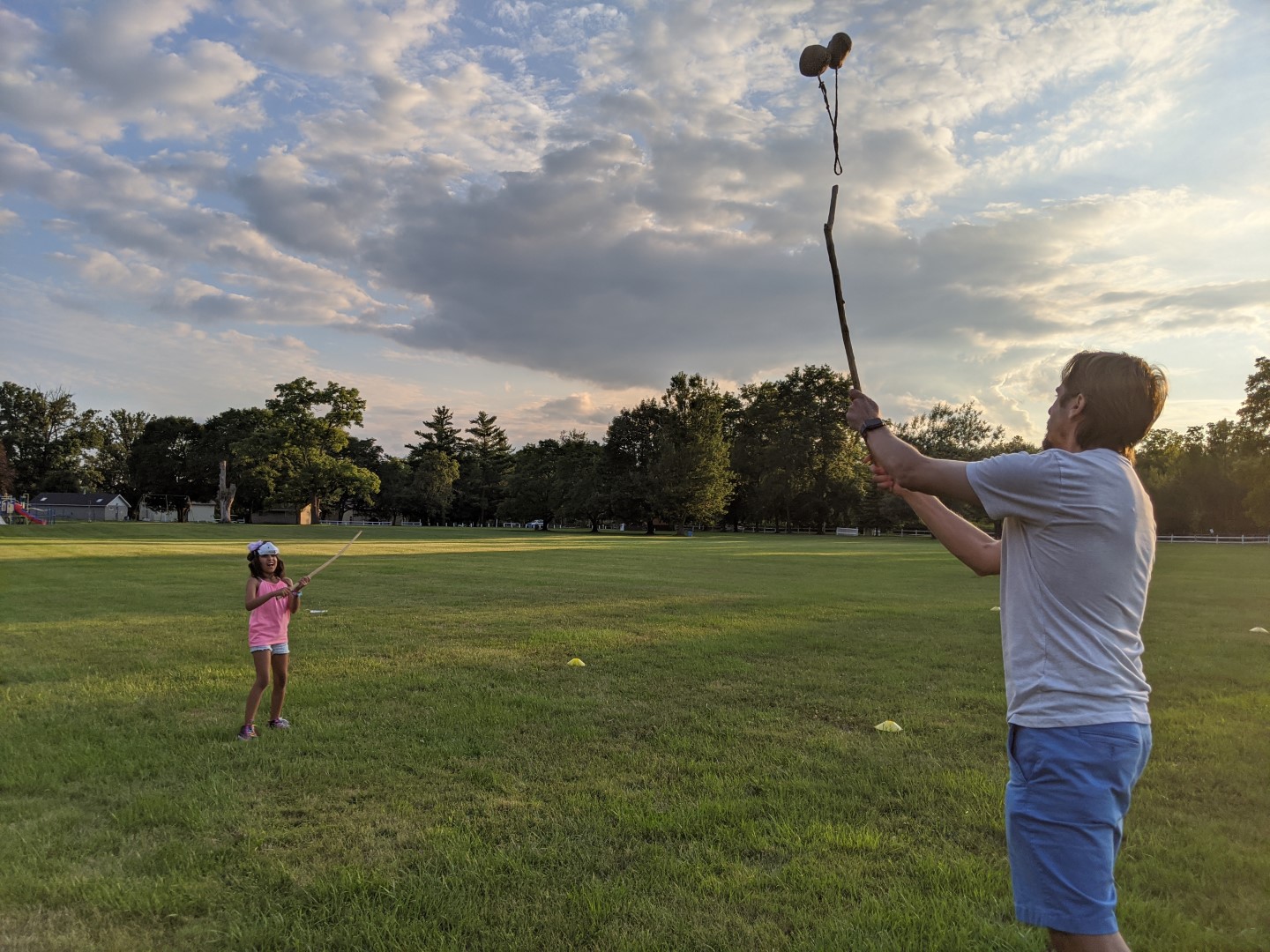 Did you know the only place in North America where all Haudenosaunee nations live together is Six Nations of the Grand River territory? This is the only reserve in North America that has representatives of all six Iroquois nations living together. During your stay at the Chiefswood Cabins in Six Nations you can not only enjoy the outdoors but you can also partake in Indigenous activities that are fun and educational for the whole family. I for one have been making it my mission for a couple years to learn about Indigenous traditions directly from Indigenous Peoples and this is one way I'm doing that. As an immigrant I was not aware of the many challenges faced and journeys they have been on so I am always learning.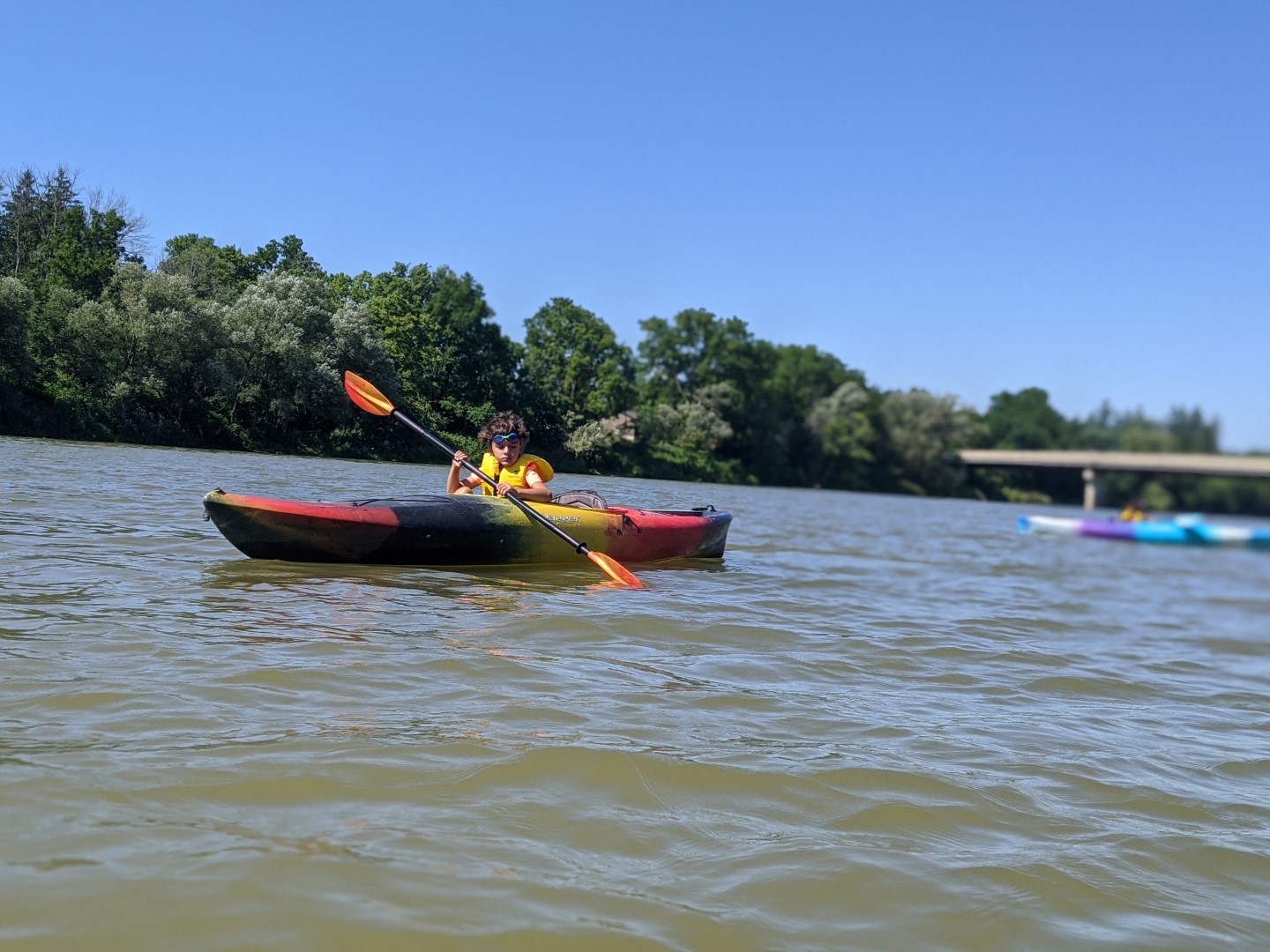 Water Sports : You can rent kayaks and canoes to explore the Grand River by chatting with staff onsite and they'll handle everything for you. This was the first time we tried kayaking as a family where we each had our own kayaks. While Apollo got the hang of it, Akira struggled big time and had a major meltdown. As for me, I think I now know how to kayak!! I've taken strides this year when it comes to water adventures and I'm pretty proud of myself and the kids – Chris is no longer the one doing all the heavy lifting!
Explore Chiefswood National Historic Site : Walk through the childhood home of the poet Tekahionwake E. Pauline Johnson. Visitors to the site can experience rare grassland prairies, Carolinian forests, swamplands, and the Grand River. You can roam the lands any day of the week or on Fridays you can take a self-guided tour for $7 but remember to pre-book your visit!
Visit a Church : Located further west in Brantford is the oldest surviving church in Ontario. The H.M. Royal Chapel of the Mohawks features Her Majesty's Royal Chapel of the Mohawks, which is also the oldest building in Canada, built in 1785. It is the last remaining building of the original Mohawk village and is quite gorgeous inside.
Learn Indigenous Games : If you'd like your family to learn about Lacrosse and other Traditional Games of the Six Nations of the Grand River, you can register for the special program through the park. We spent an hour learning about and experiencing local First Nations culture through sports. Our guide (father to young kids and owner of Onkwehonwe Games) came by to the field near the cabin and shared his history and culture with us. As a one-time professional lacrosse player, he had many tales to spin as he taught the four us about the game and the Six Nations people. We also learned about other traditional games including Double Ball, Long Ball, Bone & Toggle, Snow Snake, Rope Games and their adaptation of the Peach Pit Game. If you have active kids, or ones who are curious about cultures, I highly recommend this additional paid activity.
If you're looking for pit stops on your road trip through the Hamilton Halton Brant Counties, check out Attractions Ontario for some ideas.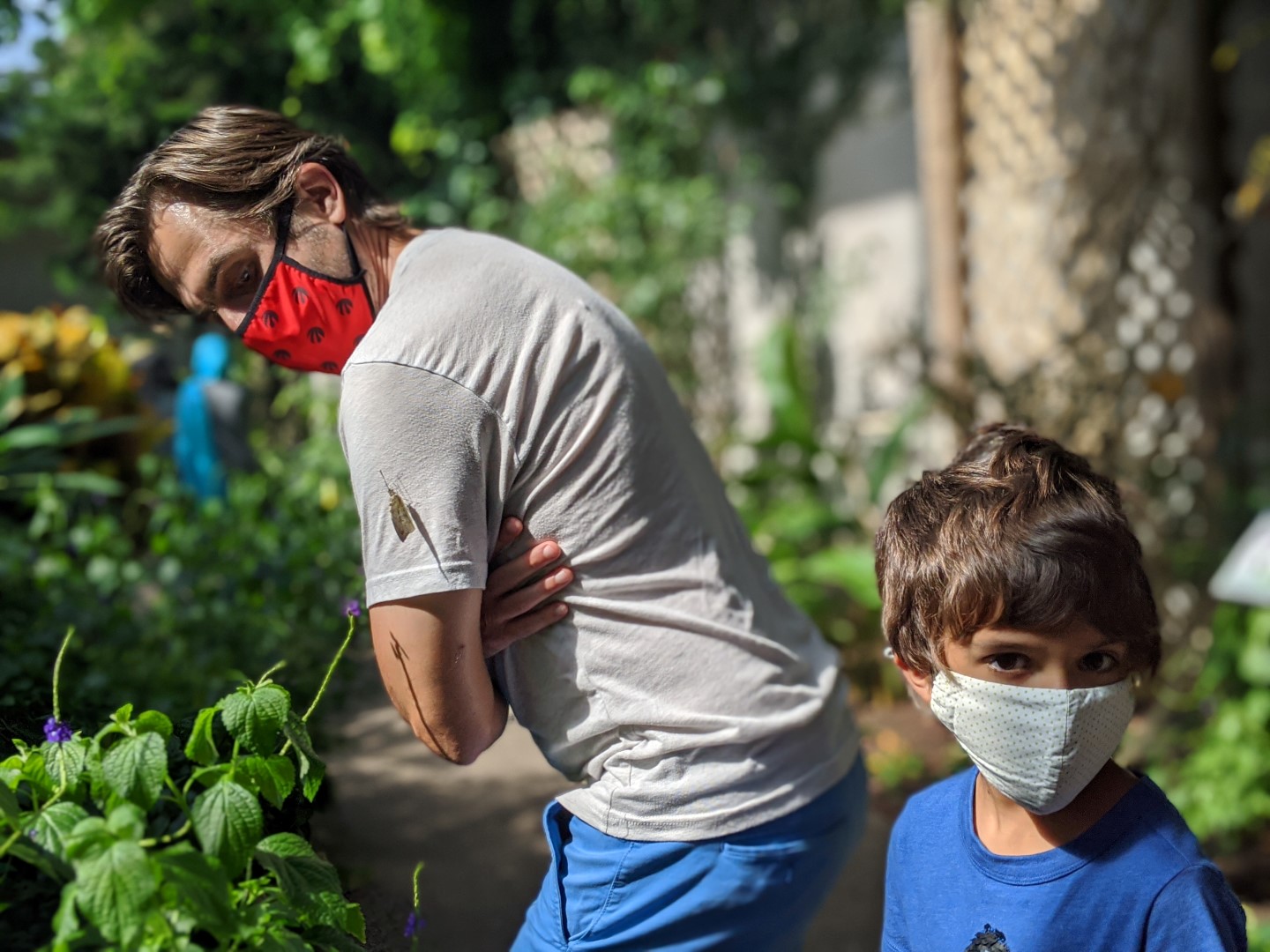 On this visit we also visited the Cambridge Butterfly Conservatory where the kids learned about insects and fauna. At the Emergence Window, visitors can watch as butterflies emerge from their chrysalides, dry their wings and prepare for their very first flight into our Conservatory. They have this happening on a continuous basis and we were MESMERIZED. Please ensure that you buy your timed entry tickets prior to arrival. These guys are doing a great job at ensure screened visitors distance indoors, that washrooms are kept clean and all frequently touched surfaces are routinely cleaned.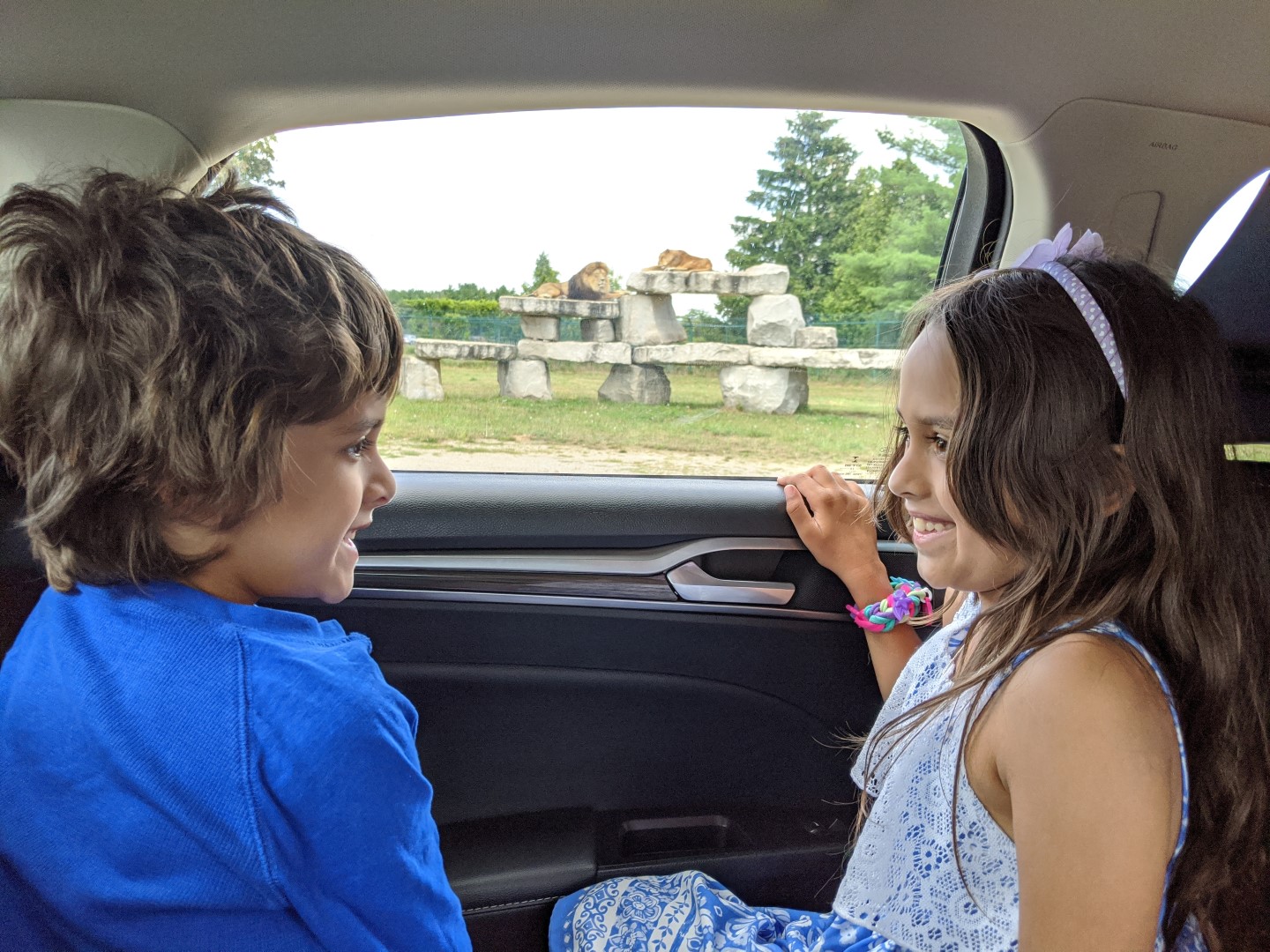 We also did the African Lion Safari and loved the "On Safari" drive through experience! This was the first time we took the kids here and I highly suggest blasting the Lion King Soundtrack as soon you start the Safari. We even had a few animals come right up to our car.
Due to COVID-19 and the health and safety of the animals, the troop of baboons is not on display this season but you can can see plenty of animals on your drive. There is a walking trail that is also open so you can wander around after the drive through portion. Remember to pre-book your tickets for a visit here as well. At this time, park attractions such as Misumu Bay Wetplay, playgrounds, presentations and tours, are still closed to the public.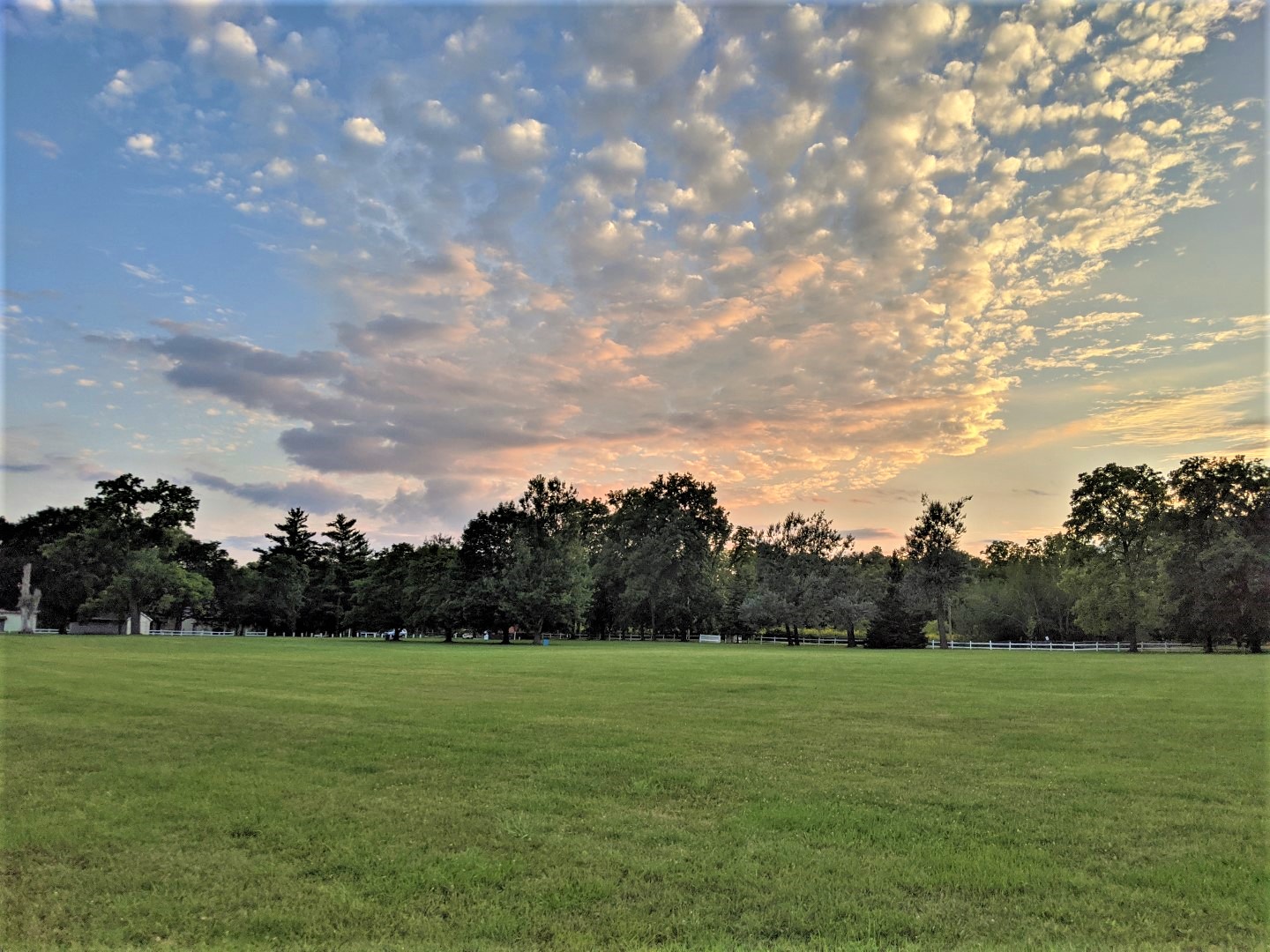 There are some amazing places to visit in Ontario with kids and we definitely hope to explore more. As anxious as I was about taking our first overnight trip during this pandemic, it was such an amazing trip. It felt SO good to be back exploring the unknown and hearing local stories. Sure, we had to do things with masks on and I was constantly sanitizing everything, but it was thirst quenching and soul refreshing.
Thinking about where else you can visit? We have more inspiration on things to do in Ontario