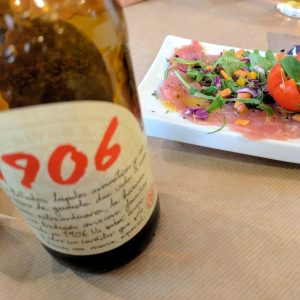 Our three-day trip to Seville was far too short. Despite an epic struggle to find a parking spot near our apartment, we fell in love with Seville within moments of exploring its maze of interconnecting streets. After spending time in Málaga, Ronda, and Granada, we were exited to explore the biggest city in the region. On our first morning, we walked toward the Parque de María Luisa, a 40 minute journey from our place. The area around the park was one we would come to know well, as it features several great landmarks. It was also the area where we found two amazing restaurants, both of which took us back to eclectic offerings to which we are accustomed living in Toronto.
Lunch at El Rincon de Beruit
Located on the northern side of the Universidad de Sevilla, El Rincon de Beruit offers a wide range of Lebanese and Arabic dishes. Yashy and I each changed our minds three times before deciding on a shared dish. However, we were in luck because one the menu items offered is called "Combinado Lubnany- Un poquito de todo!", defined as 'a little bit of everything'. which is exactly what we wanted. I continued to be amused at the low price of alcohol in Spain, opting for the cheapest beverage on the menu, which was a glass of beer. We ordered two and sipped on the refreshing suds as we waited for the meal.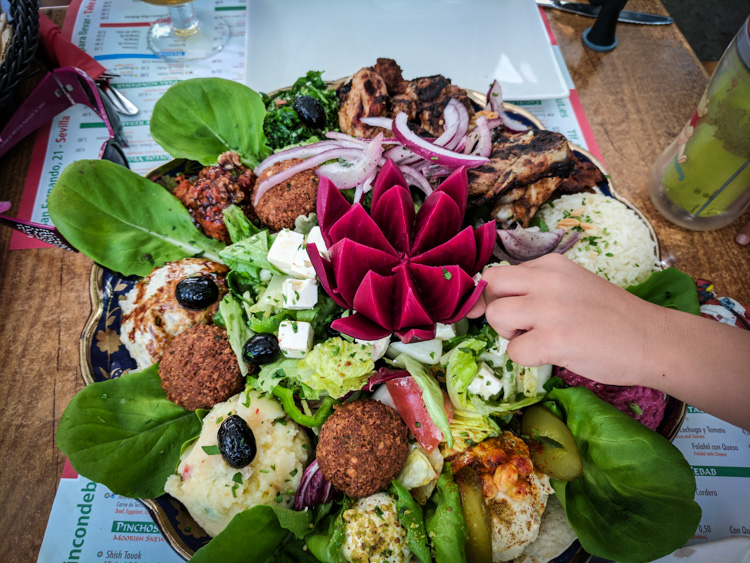 After two weeks of Spanish dishes, we were pretty excited for Lebanese flavors, but the minutes seem to be passing very slowly as we waited for our order. After about 20 minutes, our waiter may have noticed our restlessness and came over to assure us that the plate would arrive soon. He indicated that the restaurant likes to prepare everything fresh, which takes time. We were hungry and so the wait was a bit of a disappointment but when the food finally arrived, our worries fell away. The dish's visual appeal alone made us realize that we had found something special.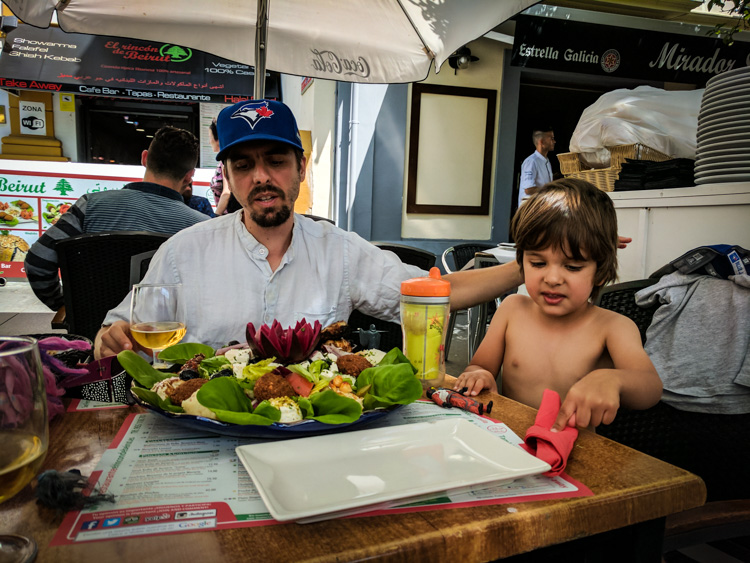 Even the kids were excited. With a half dozen different choices of dip, three different types of grilled meat, falafel, olives, chick peas, and a number of fresh vegetables, the dish looked like energy food to me, which is exactly what we needed after our long morning walking in the heat. We each leaned in and slowly picked and scraped away at the food until we soon reached the bottom. The Little Man must have been quite the sight. Feeling hot, he decided to take his shirt off to enjoy the meal, making himself at home.
Dinner at La Bartola
We discovered La Bartola after a another long day of exploring Seville. Using City Sightseeing Hop-on/Hop-off buses, we had visited Le Metropol Parassol and La Plaza d'España before taking some downtime at the playground while we searched for a dinner spot. I discovered that we were mere steps from La Bartola, at the time the number 2 restaurant in all of Seville on TripAdvisor. Reading about the menu options made me eager to check it out, and so I decided to test a theory.
We had seen ample evidence of the famous siesta hours Spaniards build into their days. From 4 pm to 8 pm, we were discovering that most restaurants would shut their doors for the early evening, prime eating time for this North America family with two young kids. In Granada, the siesta was so widely adhered to that it was virtually impossible to eat during that time. In Seville, a most tourist oriented city, we noticed that the siesta was still respected but that many restaurants would stay open during the siesta hours. At the moment I decided on La Bartola, I looked at my clock and saw that is was 6:30 pm.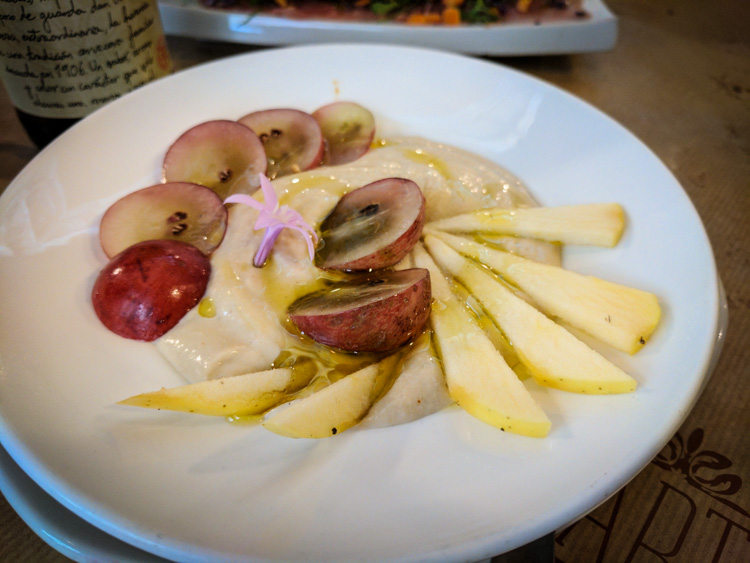 Despite its lofty TripAdvisor ranking, I couldn't help but wonder if we would be able to get a table if we arrived before 7:30 pm, which would allow us to benefit from the late schedule most Spaniards followed, and to which most local tourists acclimated themselves. We hurriedly dusted the kids off (the rocky play area left them looking like they had just emerged from a desert wind storm) and walked over to the restaurant. My theory paid off when we discovered a small, largely empty tavern that looked more like a local watering hole than a bed of culinary delights.
The menu featured tapas, half portion and full ration options for almost every dish offered. We found so many intriguing menu items that the option to order tapas portions allowed us to try 6 dishes. The restaurant featured a regular menu as well as large chalkboard of specials, leaving us with some difficult choices, even in picking six items. We ordered a little from each menu and were treated to a meal that we are still talking about almost a month later.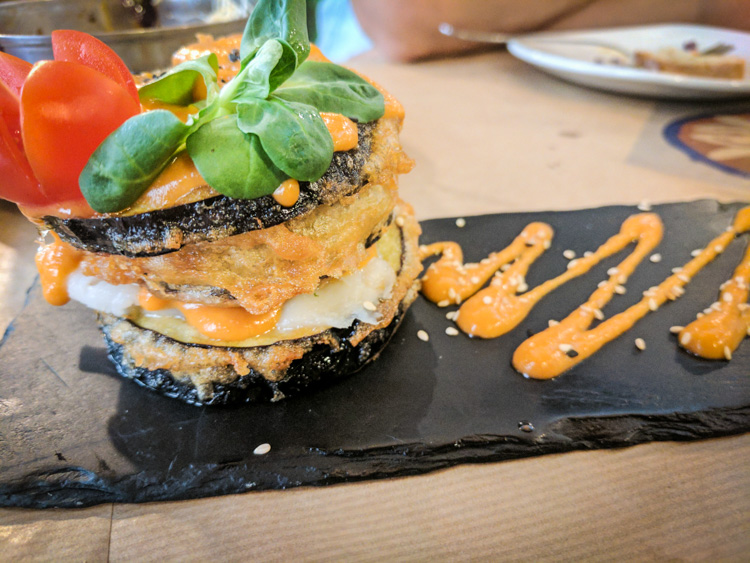 My personal favorite was the Aubergine and Cod Tower, which is on the short list of the best dishes I have ever tried. I am admittedly a big fan of both eggplant and codfish and so this dish seemed tailor made to my tastes. We also enjoyed a Spicy Wok dish, which contained pork and fried vegetables, and the Almond Butter, served with grapes and apple slices. The kids also devoured the Calamari we ordered, a favorite of the Little Monkey since she's been able to eat solid foods.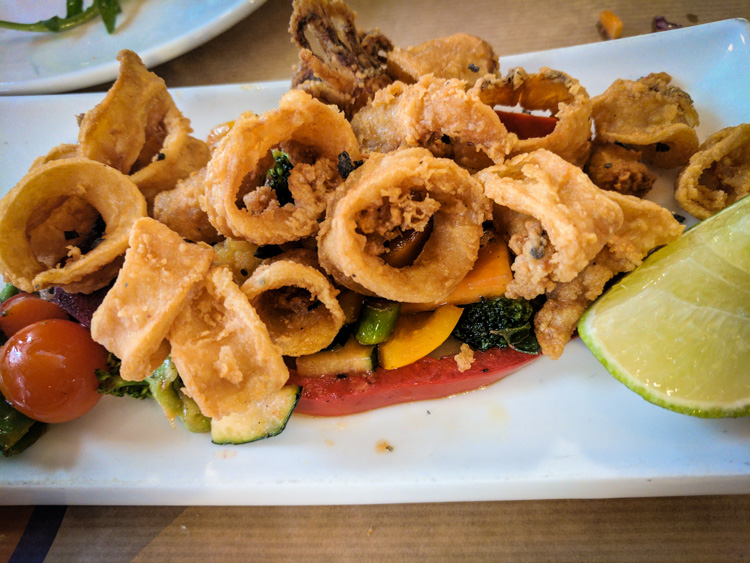 We finished up around 8 pm and by that time, a crowd of people had gathered outside the restaurant, and this was in addition to the dozens of patrons who squeezed around the bar or waited just inside the door to put their names on the list. Many of those waiting were tourists, as tends to happen to places that score high on TripAdvisor, but these foreigners seemed to have already bought into the Spanish practice of showing up for dinner after 8 pm.
Related Posts: