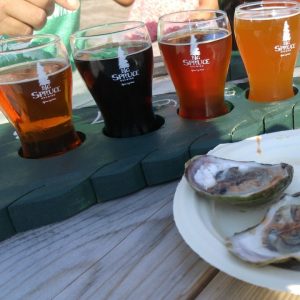 Behold the Big Spruce Brewery.
Dance with the Ra Ra Rasputin Imperial Stout, aged in Single Malt Whiskey Barrels from the Glenora Distillery, Canada's only single malt whiskey maker.
On a hot summer day, sample 8 beers on tap, perhaps the great Bitter Get'er Black IPA, the terrific Complexified Barrel Aged Baltic Porter, and the sublime Tim's Dirty American IPA, a beer not unlike the world class IPAs of Vermont.
Enjoy a dozen fresh oysters, and then sample a few more, cooked Portuguese Style, from a local fisherman who asks the brewery if he can set up shop for the afternoon.
Relax in the afternoon sun while the band plays on the side porch attached to the tap room.
Breathe in that pure Cape Breton air!
What a time!
---
For a beer drinker, especially those of us who are incorrigible snobs about it, a vacation can be a disconcerting affair. For every trip we take to beer brewing wonderlands like Vermont and Quebec lies a disappointing visit to markets like Portugal, Ireland and Mexico, where one has to look very hard to find a good craft beer. For years, Cape Breton Island in Nova Scotia, a place we frequent, has been one of those disappointing stops. Every time I make the trip back home at Christmas, I usually ensure that I pack a few bottles from my collection to tide me over while on the island.
Mainland Nova Scotia does have some excellent producers, including Propeller Brewery and their wonderful Extra Special Bitter and IPA varieties, as well as Garrison Brewery, whose Nut Brown Ale I have always enjoyed, but beer drinkers travelling to Nova Scotia have traditionally been exposed to little variety. But good news! While there are still not a lot of barrel aged or sour beer offerings, upstart breweries like Boxing Rock are starting to add a little more complexity to the market. During my recent trips to the Nova Scotia Liquor Commission, AKA the NSLC, I have happily found enough options to last a week.
(Newfoundland, where we also visited on this trip out East, I knew to be a different story. With only one craft brewer producing beers that are distributed throughout the island, and a not very good one at that, I knew that I needed to stock up in Nova Scotia during a recent trip to the West Coast of The Rock. I am told that there are a few new breweries in development and so fingers crossed that they open soon. To Newfoundlanders, the best drinkers in Canada, I implore you to start making better beer!)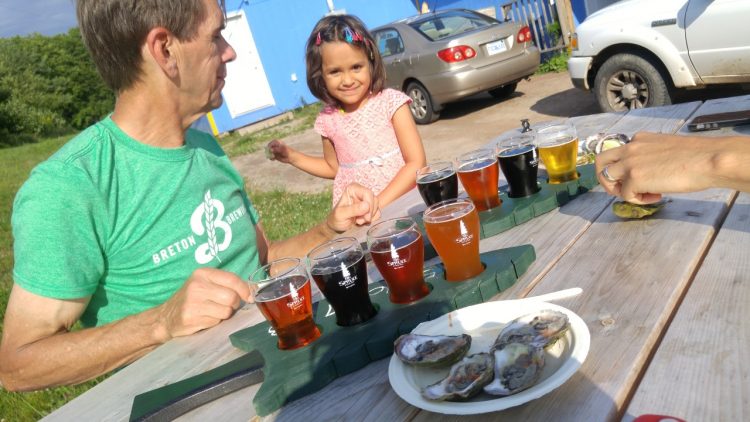 The news, therefore, pleased my ears when my Dad informed me on our ride home from the airport that two new breweries had opened on the island. The first is right in Sydney, NS, the island's only city, where my parents live. Breton Brewing were producing four beers at the time of our visit, and I found their Black Angus IPA and Red Coat Irish Red Ale at the NSLC. Dad has been enjoying a lot of the Black Angus and it's a very good beer. The availability of a fresh IPA in the city is an excellent development.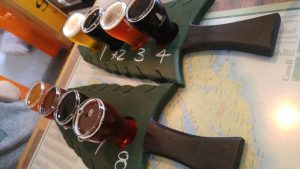 Later, on the second last day of our vacation, we explored a little of the Cabot Trail and then stopped at Egypt Falls, before making our way to the Big Spruce Brewery. I had no idea what to expect and decided not to visit their website so as to add some intrigue to the visit, and, as outlined above, I find it hard to conceal my delight with this brewery. Located just outside Whycocomagh, which is about 1 hour from Sydney to the Northeast and 30 minutes from the Canso Causeway to the Southwest, the brewery can be hard to reach, but for those ending a long day on the Cabot Trail or exploring the beautiful area in and around Baddeck, Big Spruce is an ideal place to stop for some delicious brews. The brewery is actually little more than 300 meters off the TransCanada Highway! For comparison, if you have ever made the trip to the famous Hill Farmstead Brewery in Vermont, Big Spruce is much easier to reach. It's a small spot but Little Monkey was able to chill with us on the picnic benches the had put on their lawn. We also heard some live tunes and was told that there's a food truck there occasionally as well. From what we gathered, the brewery owners welcome the local community to come in and help with entertainment and food options for their patrons! It's a small spot so definitely no strollers would fit in there but there's a few benches outside where we hung out at and the kids ran around the grass hill while we sipped on the brews and oysters.
If you are looking for a pint of Big Spruce but can't make the trip, their beers are available throughout Nova Scotia. If you can find one of the Whiskey barrel aged options, order it before it runs out. I was lucky enough to pick up Ra Ra Rasputin, the first bottled beer ever released by the brewery, and it didn't last long in my fridge. I greatly enjoyed it during my first week back in Toronto, and now have my eye on the other bottle I picked up, a whiskey barrel aged warmer called Snowmageddon, brewed with dark rum, buttercup squash, ginger, vanilla, and cinnamon, though I suppose I should save that one for winter. If I can!