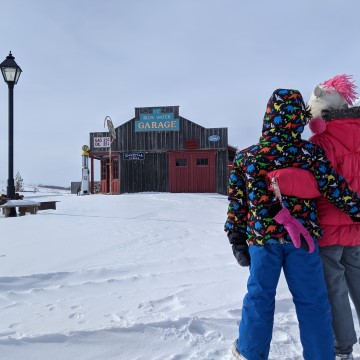 We've visited Grey County on numerous occasions but this was our first winter road trip from Toronto to the area. We now know to avoid traffic and leave early so that it only takes us two hours to get there, making Grey County a perfect winter getaway from downtown Toronto. On this trip we took the opportunity to really embrace winter sports, ignoring my immigrant fears of freezing our tushies off. Not only did we participate in ski and snowshoeing adventures, but we also visited quite a few bakeries and restaurants, including a brewery! While many drive from Toronto to Blue Mountain Village, not everyone explores the area beyond the Blue Mountain Resort which is a shame, because as you will see below, there's plenty to do!
Disclosure : This post is in partnership with Visit Grey, but as always, opinions are TOTALLY ours!
Winter Accommodations in Grey County's Rocklyn Area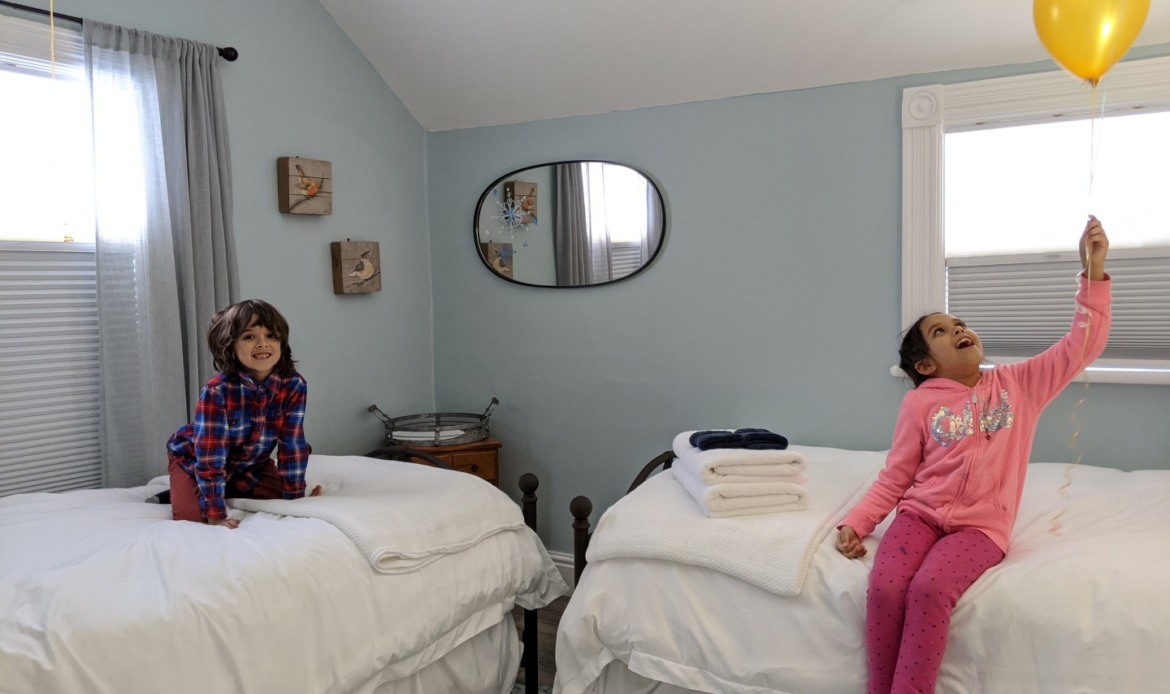 Having visited the area at least once a year for the past four years, we've had the pleasure of staying at the Westin Trillium House in Blue Mountain, the Resting Place near Owen Sound and Cobble Beach Resort. On this visit, we thought we'd try something different by staying at a bed and breakfast in Rocklyn, a rural community located in Meaford, Grey County. As you know, my parents own a Niagara on the Lake B&B and so we've always avoided staying at a B&B with kids because our kids can be so noisy and disruptive. However, they're now older at 6 and 8 years so we thought we'd experience a stay at the Rocklyn Inn Bed and Breakfast who allow kids older than 5 years (or under 10 months) to stay in one of their 5 rooms. I must admit that my fears were unwarranted. We had a relaxing stay and owners, Lesley and Micheal, ensured that the kids were kept happy!
We stayed in the King room suite which not only had a king bed but also an adjoining room with twin beds. While there is no en suite we never had any issues using the bathroom next to our room. The Rocklyn Inn B&B ensures that you're never hungry EVER because in addition to the breakfast, your room has snacks that are replenished daily and stocked fridge with juice and pop.
I was truly amazed by the amount of food on offer and wouldn't hesitate to return to the warmth of Rocklyn Inn B&B in Grey County.
Winter Activities in Grey County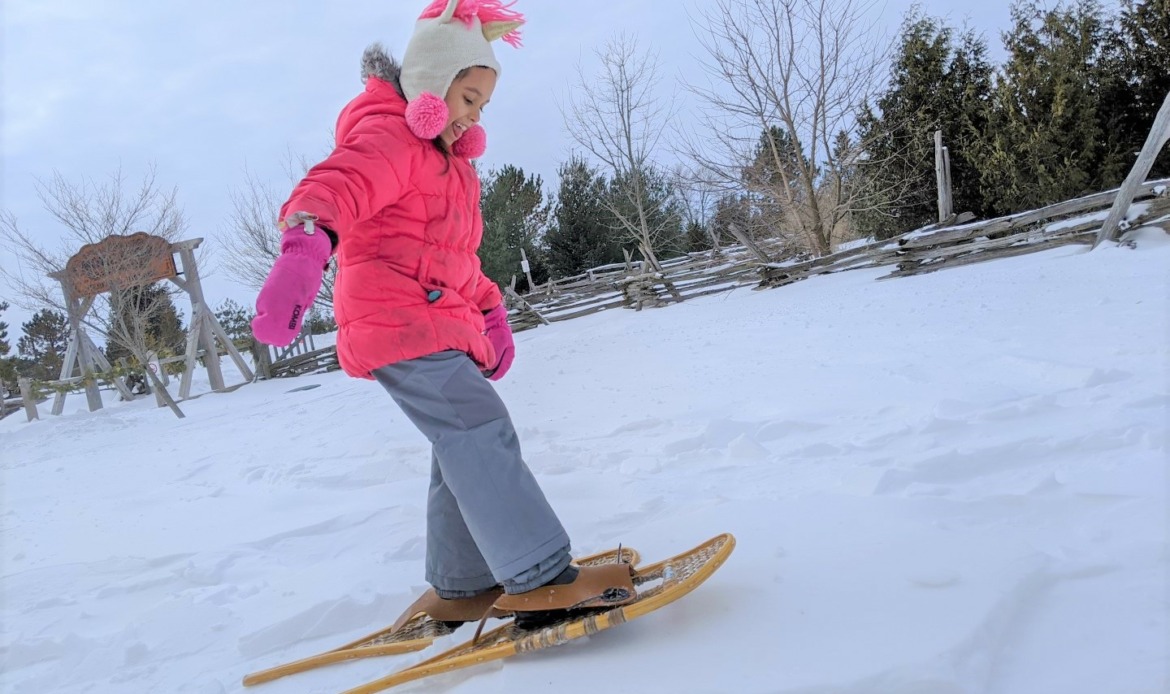 We had a mix of extremely cold days and 'regular winter' days during our visit so we did a mix of indoor and outdoor activities. As long as you're bundled up you can enjoy the great Canadian winters, is what I'm learning. So be sure to pack snow pants, winter jackets, extra gloves and extra socks for the kids. I usually layer up and am quite warm as long as I have a good pair of boots. You do have to drive around to various places in the county so that's something to keep in mind as you plan out your road trip.
Grey Roots Museum : We pretty much swing by this museum every time we visit Owen Sound because there's something new and exciting happening. On this visit they were celebrating Family Day with a variety of activities that saw us throwing the perfect snowball (they had pre-made ones for kids to easily pick up), warming by a fire while munching on warm Bannock, meeting dogs that partake in dog sledding excursions and snowshoeing around the grounds. The kids also loved being indoors with various arts and crafts. You'll notice that I didn't even mention the actual museum exhibits or the hands-on fire station play area! We had two hours here and mainly focused on the outdoor fun in Moreston Heritage Village. If you're in the area, I highly recommend seeing what's on their special events list because there's always something new and exciting!
Harrison Park : During the summer we popped by for the playground and the water activities but I was surprised by how many locals frequent this park in the winter! The snow on the ground didn't stop Akira and Apollo from wanting to jump around the playground while Chris and I walked over to the Black History Cairn, a commemoration to Owen Sound's black history. I learned on this visit that Owen Sound was part of the northernmost terminus of the Underground Railroad. The reason the locals come here during every season is because there's more than 40 hectares of trails, gardens and streams to be explored. It was quite pretty during our winter visit.
Tom Thompson Art Gallery : Given that it is Black History month in Canada we opted to visit the pay what you can art gallery where we received a guided tour of Tony Miller's exhibit Legacies. We learned about his personal history and traditions growing  up as an African Canadian in Owen Sound and while this was a stop for Chris and I, the kids were entertained by the scavenger hunt that was handed to them upon arrival. I love it when galleries and museums offer these because it saves me from having to do it on my own!
Blue Mountain Village : As you may recall we enjoyed a multi-generational spring visit to Blue Mountain Resort and Village couple years ago and so I was excited to return. We spent an entire day here roaming the village, eating tacos and chicken nuggets at Camino Taco (a cute, small and popular spot so you'll want to dine during off hours to avoid waiting for a table), buying candy at the Happy Valley Candy Company and taking part in the family day magic show and interactive groove dancing. Even if you're not staying on the resort you can roam the village because there's always something fun happening. It was extremely busy during our Family Day visit so we didn't get a chance to enjoy the many attractions on-site but if you plan it properly you can enjoy the Ridge Runner Mountain Coaster even in the winter and go tubing as well skating on top of a mountain or taking a dip in the Aquatic centre (outdoor swimming pool with slides you guys!!).
Ski Lessons at Blue Mountain Resort : The highlight for me on this excursion was taking a personal ski lesson with the kids. As you may know, Chris knows to ski but the only time I was on skis was in Beaver Valley and it was a disaster with me giving up easily. While Chris watched on, the kids and I took a 90 minute Newbie Ski lesson and it was absolutely wonderful. The kids were so good!! As for me, well I wasn't too bad! We learned to "pizza" and "french fry" and while I'm still not great at stopping, I did enjoy whizzing downhill! hah!  I will mention that weekends are very busy and so you should reserve your lessons ahead of time. The package booked for us by Grey County included the cost of the ski rentals, helmets, lessons and lift access. You should definitely arrive 30 to 45 minutes before your lesson as the line ups to pick up your gear can be long, never mind actually booting up! I ended up with my own instructor (an older lady whose activity levels put me to shame) and the kids shared one (a younger gent who was an insanely flexible skier doing tricks). They were both attentive, kind and funny which made us all very comfortable. Having the ski instructors meant that we were able to cut the LONG line at the "conveyor belt" lift that took us from the bottom to the top of the ski hill and that saved us loads of times, giving us more opportunities to ski downhill. After the lesson we could have stayed on but we had dinner reservations waiting!
Blumination : From dusk until 10 p.m. you can walk through Blue Mountain Village enjoying the 1 km dream trail of light displays. There were 11 of them this year and all four of us had fun discovering the various stops, making it a point to take a picture at each and every one of them. Some of the displays were interactive and some would light up/dance to music at the start of each hour. This is a free attraction that's back for its second year. I hope it keeps returning because it's super fun way for kids to run around and enjoy the outdoors. On Saturdays you should time your visit so that you can catch the fireworks by the Mill Pond at 8 p.m. A lovely way to end an active day, that's for sure!
Nocimo Woods : This bed and breakfast offers snowshoeing experiences for families and we truly fell in love with the two owners and their dog. From the moment we pulled in, we felt like family. They were fantastic with the kids and had snowshoes that were well maintained and the right fit. We spent about an hour roaming around their trails with Oliver their dog entertaining the kids. I was shocked that neither of them whined about the excursion. We lucked out with the perfect weather and I couldn't help but take a bazillion pictures! At the end of the snowshoeing excursion we were greeted with a warm fire, cozy blankets and homemade hot chocolate (the real stuff, not those powders or anything). We also had a chance to make s'mores and they had heard that Apollo is on a dairy free diet so they made a dairy free hot chocolate for him. So attentive! You don't have to stay at their B&B to participate in the add-on activities and if hot chocolate isn't your thing, they can have wine and cheese waiting for you. They will gladly customize anything you want so reach out to Pamela and Lesley if you're planning to be in the area!
Where to Eat in Grey County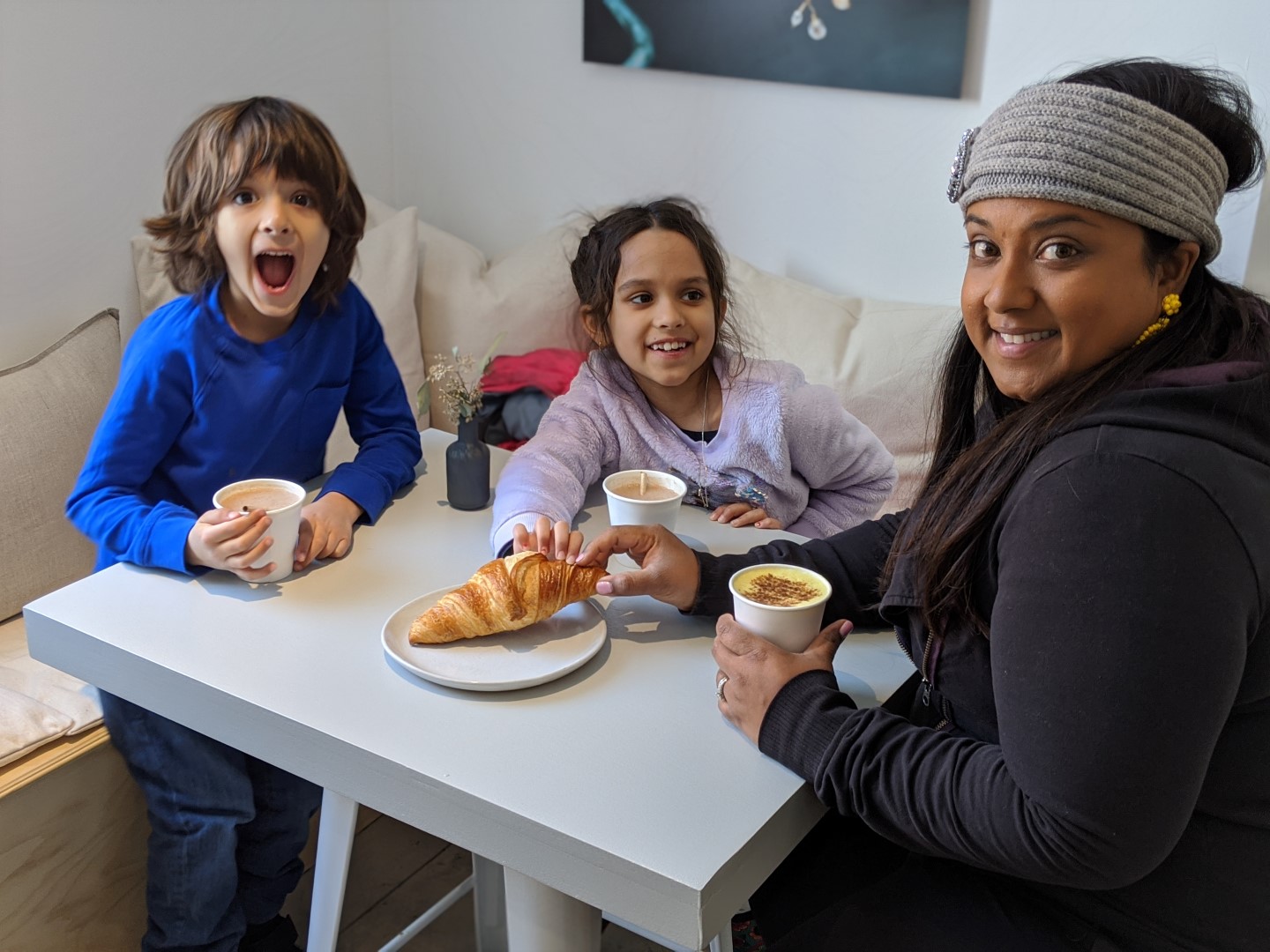 With every visit to the Grey County area, we discover new bakeries and restaurants. I'm always amazed by the amount of baked goods I eat each time I visit! They're all so good and I just can't say no! Another thing I can really appreciate about the restaurants in Grey County is how most of the dishes feature local ingredients and how the restaurant owners really support their local farmers. While farm to table might have become a marketing term these days, it truly is farm to table in Grey County as most of the farms are in the immediate area!
Birgit's Pastry Cafe : Tucked next to an Artists' Co-op this cute little bakery serves up delicious homemade soups and sandwiches. You know I don't usually mention sandwiches because they tend to be super boring but theirs featured unusual combinations that really worked! We were served by owner Birgit herself and she told us that her sandwiches are served on Birgit's spelt-wheat-quinoa bread or her Danish rye. Varieties of pastry dough are crafted using only pure butter, organic sugar, maple syrup and honey. While I prefer nuts in buttertarts, I was shocked by how good her cranberry buttertarts were! The spicy jelly cookies were also amazing. Also, be sure to order a Meredith's Lemon Ginger Elixir because it's a good way to warm up on cold days and also boost your immune system.
Bruce Wine Bar : This is our second visit to this wine bar in the Owen Sound area and just like our last visit, the food was amazing and service spectacular. We always order the pizza and the charcuterie board here it seems and on this visit I also ordered the red wine braised boneless short ribs. I was so full that the kids had to help me with most of the dessert I ordered! No going wrong if you're looking for a cozy wine bar that's also relaxed enough for families to enjoy. It's a busy spot so make reservations and we always see families here so they're great with kids!
Justin's Oven : Our brunch here was absolutely fantastic.  Run by a husband and wife duo, the restaurant started with a community-built clay oven (and massive pizza party). During our Sunday brunch we were serenaded by a guitarist while we dined in a cabin. The kids were given some books to read (they were the small ones from McDonald's happy meals) which kept them quiet and then we all dug into our meals. I ordered the Duck Eggs Benny which was really well made. Apollo opted to keep it healthy with homemade granola while I convinced Akira to order the adult's French Toast. In hindsight I should have got the kids version because the adult one was massive and stuffed with so many things that she focused on only eating the salad. The menu is all about local and organic whenever possible and everything is made in-house by Justin. We will have to come back for one of their pizza nights next time!
The Mill Cafe : This elegant but relaxed restaurant in Thornbury was where we celebrated Chris' birthday. Our dinner featured dishes showcasing more of Grey County's local produce and the kids found plenty on offer that made them happy. The Jerk Chicken was my favourite (was totally surprised to see it on the menu but the fusion dish was fantastic) and the Duck Confit was really good too. Chris couldn't stop eating the hummus because the bread was great here as well. They do have vegan and vegetarian options so be sure to ask!
Gather Grocery : Located in Thornbury (around the corner from Bread and Butter Cafe), this zero to minimal packaging grocery store aims at increasing the quality of our food and decreasing our negative impact on the world. It's a relatively small shop but they had plenty to offer. The kids (and Chris!) purchased organic gummies while I was obsessing over the selection of meats from local farms. They also had fresh produce and baked goods (including gluten free and vegan cookies which I purchased for Apollo). If you're looking to stock up on snacks for the car ride, this is a great spot to visit.
Bread and Butter Cafe : We walked in here quite randomly as we were trying to escape the cold one morning in Thornbury and discovered a gem! This cute coffee shop not only offers smoothies, baked goods and coffee but it also sells a few things like delicious smelling candles and granola bags. I enjoyed a turmeric latte while Chris had a coffee and the kids shared a vegan chocolate smoothie (the owner was kind enough to trick the kids into thinking they each got a 'large' drink when I had her split one cup into two!).
Thornbury Craft Cider and Brew House : As you know we love mixing in some activities for Chris and I. We're always hunting down Ontario breweries and wineries so we knew we wanted to visit  Thornbury Craft Cider because not only do they make beer and cider, but wine as well! I'm not usually a huge cider fan but trying out a cider flight helped me discover some that weren't super sweet. A stop here is great if you want a break as the kids can play ping pong or a game while you enjoy your drinks. They also have tasting flights for kids featuring craft sodas… mine aren't used to having pop so this was a real treat for them! We didn't eat anything here but they do have food as well. I'd definitely return here on our next visit!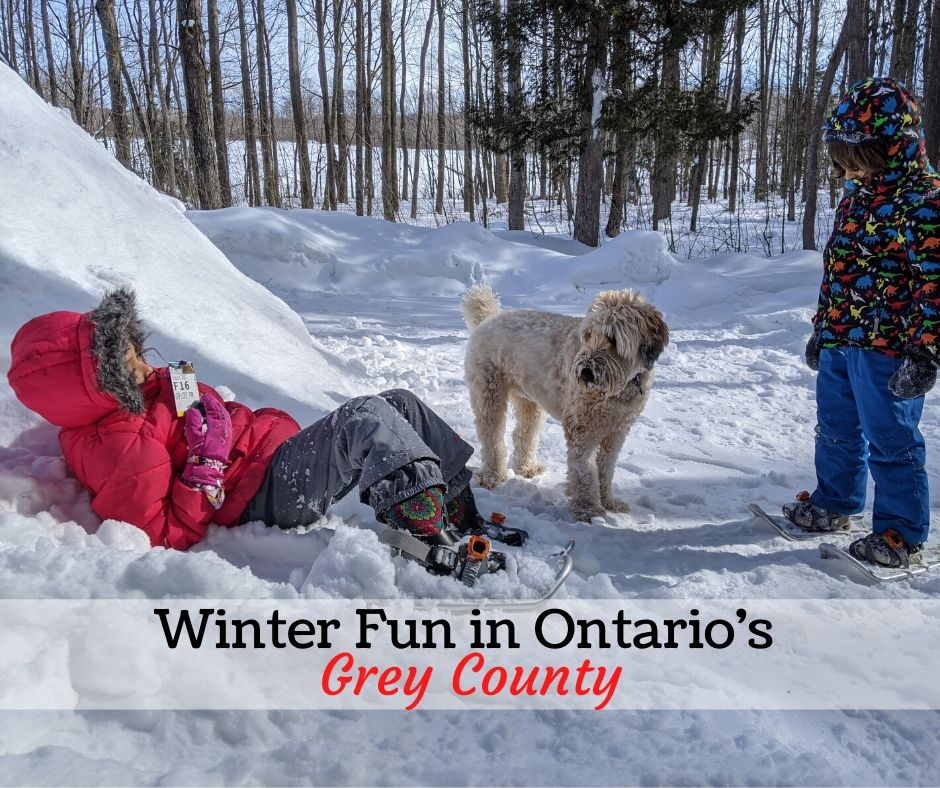 If you're looking for a winter road trip from Toronto, Grey County should definitely be on your radar. There's a solid mix of outdoor and indoor fun coupled with great restaurants and unique experiences. Don't forget to check out our tips for a maple themed visit to the area!