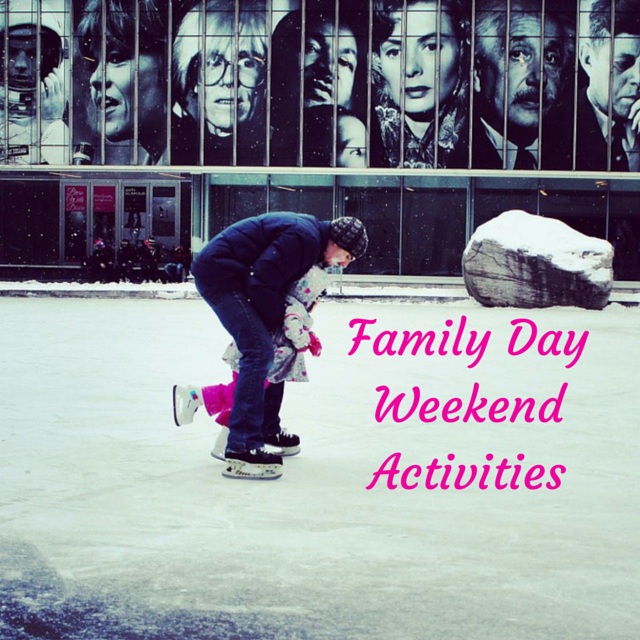 As you may recall, we're heading to the big apple this long weekend but I've received a couple requests on what's happening in Toronto during this Family day weekend and I thought we'd do a round up of some fun things we're going to be missing out on! If you're looking for a true staycation may we suggest checking out the family packages at the Eaton Chelsea?
This is how we'd spend the extra long weekend in the city of Toronto if we were here!
Friday
Long Winter Fair : Bundle up for this street festival that's sure to tickle musicians and artists alike. The Long Winter Fair is in its third year and it's bigger than ever. Sip on hot toddys and mulled wine as you take in the sights and tunes taking over the Queen and Dovercourt area. It's all ages and you can even pop indoors to warm up at select locations. As with any street festival it's free…until you decide to purchase something! It's Pay what you can so there's commitment if the kids get cranky and you don't venture into the indoor exhibits and music halls.
Saturday
Skating : Little Monkey got on the ice last weekend so we'd most likely start our long weekend with a leisurely skate (all of ten minutes on the ice despite the hour of getting ready!). Toronto has many rinks scattered throughout the city but my favourite is the tiny one by the Ryerson Campus.
Valentine's day Wingetine's  : Throw over priced fancy out the door and check out Tilde's awesome ALL YOU CAN EAT Wingetine's! For $24,99 + tax ( 12 years and over) you get all you can eat wings, tacos and desserts. Who needs flowers when you have wings? The hubs and I would be all over  this if we were in the city. We met Chef Gauravi and her mom at Eat To The Beat and I've been waiting for an excuse to visit this fusion Mexican spot on the Danforth. This would have been perfect! Kids under 4 will enjoy the AYCE for only $3.99 which is quite a deal because I know Baby Boy would do this justice. Little Monkey not so much! Kids over 4 but under 12 will cost you $14.99. With delicious unlimited food, great craft beer options on tap and fab music, it promises to be a fun evening.
Sunday
Family Fun Fest : This is most definitely an all day affair and it sounds pretty awesome. Tickets are $25 for kids 2-12 (includes unlimited rides! Great deal) and it's $8 for adults (13 and above). Kids under 1 are free!  From what I can see there's bound to be plenty of fun to be had here in Toronto's largest indoor inflatable display. Little Monkey would have loved the many jumping castles and kiddy rides on offer. It happens all weekend long Saturday to Monday from 10 a.m. to 6 p.m. I haven't been to this Downsview park event before so it's hard to say if it will be crazy packed but if we were in town Family Fun Fest is where we'd be on Sunday! Oh by the way.. there's a 50% discount on Travel Zoo!
Monday 
AGO : As you know we're fans of the Art Gallery of Ontario. Over the next few months the AGO will be hosting a number of family-friendly events inspired by the brand new exhibition Jean-Michel Basquiat: Now's the Time. This year AGO celebrates with a special Family Day event from 10 a.m. – 4 p.m. Exploring Basquiat's love of music and art, the jam-packed line up of activities includes hip hop, breakdance and beat boxing performances.
Kidville : I'm yet to take the kids here but they're hosting a Fam-Jam that sounds pretty fun (and a great way to burn some energy!). Priced at $50 per family or $25 for one parent and one child you get to explore the Kidville Big Muscle Gym,  get crafty with take-home art projects, enjoy Ooh Baby Play Room and there's a special appearance by Treehouse Tv's Splash N Boots. You can book the two hour slots online (9:30-11:30 a.m. / 12:30-2:30p.m./ 3:30-5:30 p.m.) so as not to be disappointed if they're booked up.
By the time Monday evening rolls around we'd be pretty exhausted that's for sure! Whatever you guys plan, have a safe and satisfying Family Day! Also if you're a sushi lover be sure to enter our Sushi Festival giveaway!